Our Contributor Elena Taintey will take you on a culinary journey and introduce you the top 3 restaurants in Moscow.
"We are particularly enthusiastic about introducing Moscow to foodies! This mysterious and timeless capital city is a culinary gem that showcases not only local Russian products, but also the wonderful diversity of world cuisine." Gwendal Poullennec, International Director of the Michelin Guides.



On the Menu: Russian (R)evolution
From mounds of Beluga caviar to decadent $500 breakfasts at Hotel National, the Russian capital is in the midst of a foodie revolution. Long gone are Soviet-style cafeterias serving uninspiring dishes. Over the last decade the city has positioned itself as an exciting culinary destination worth talking about.
At the beginning of 2014, Moscow's restaurant market was still playing by the book until infamous government resolution No. 778 imposed an embargo on almost all food from the west, outlawing foie gras, parmesan, oysters and pretty much everything else in between. This breaking news took everyone by surprise and the biggest question was: "How will restaurants handle it?"
Damaging at first sight, an import ban sparked an explosive interest in sourcing domestically and focusing on the best of the "new Russia". The chefs, formerly preoccupied with international cuisine, had now fallen back on a rediscovery of long-forgotten culinary traditions, setting themselves apart by highlighting the country's local ingredients. And it didn't go unnoticed. Just a few months ago the prestigious Michelin Guide announced that it will launch the first ratings of Moscow restaurants in 2021. Expect to see new stars on the world's culinary map very soon!
Armed with a little research, a fair amount of cash and sense of adventure, let's get a quick snapshot of what Mother Russia puts on a plate these days.
Caviar for Breakfast: Café Pushkin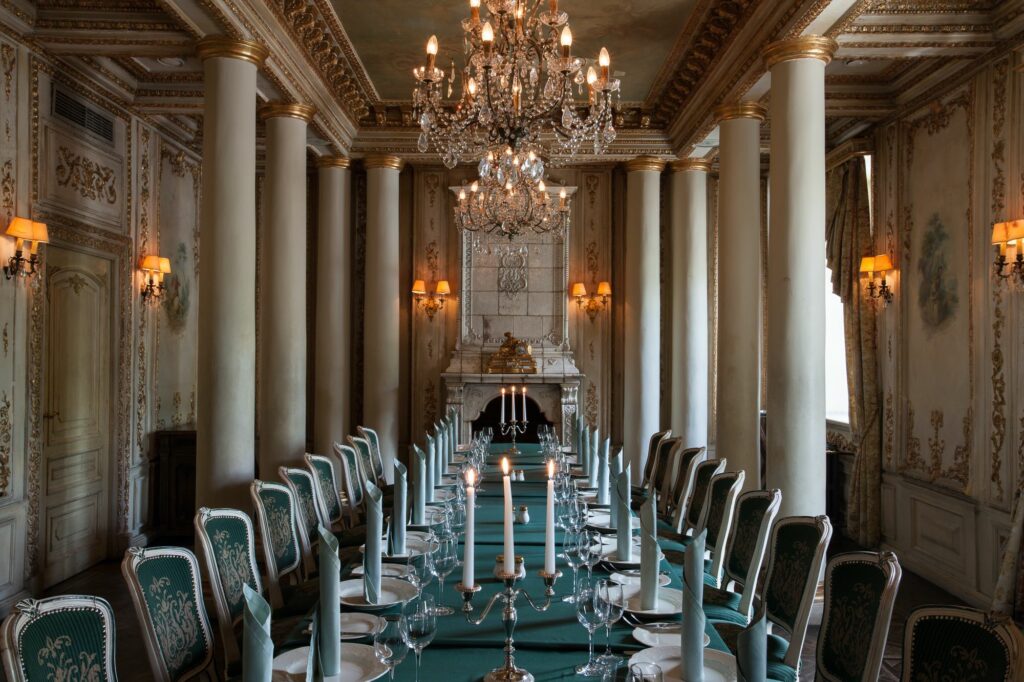 Breakfast, lunch and dinner each represents an opportunity for a dining experience which will go down in history. A reference point on Moscow's dining atlas, the legendary Café Pushkin is the first stop on our gastronomic adventure. Step into the shoes of a 19th century Russian aristocrat by ordering a breakfast of champagne and caviar served with classic Russian crepes.
The name pays homage to Alexander Pushkin, famed Russian poet and novelist, who frequented the neighbourhood. Although the restaurant was opened in 1999 many people are sure it has always been occupying a splendid pink mansion on Tverskoy Boulevard.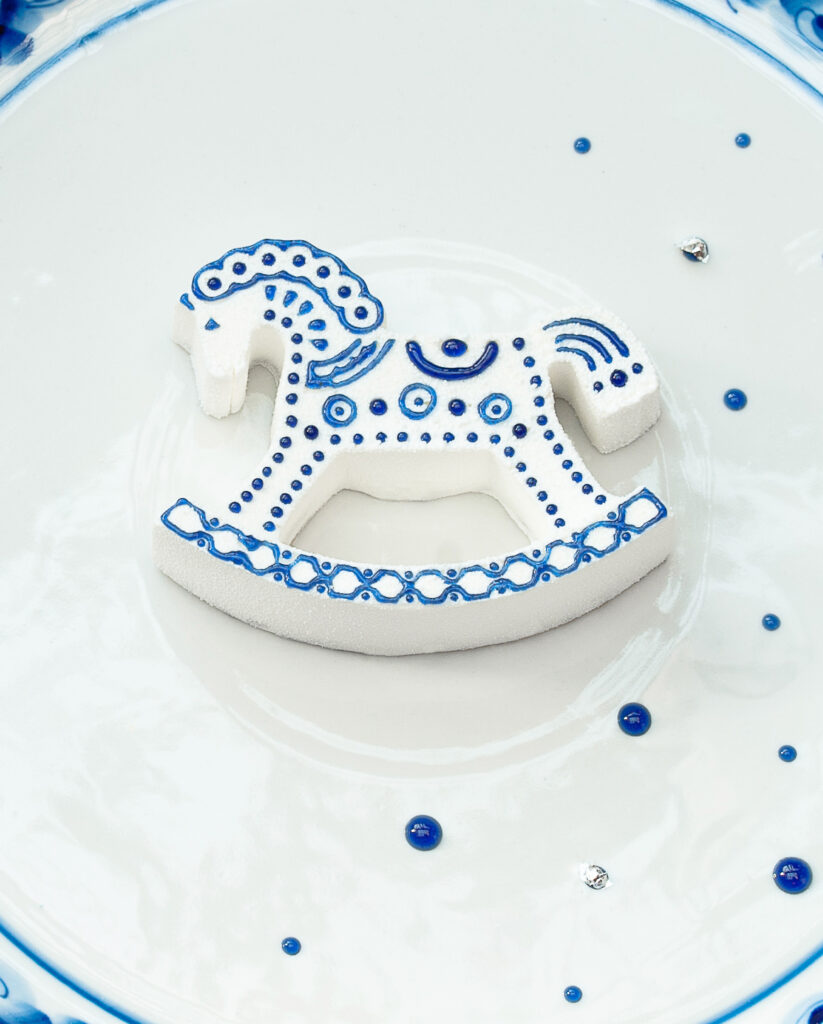 With a wonderfully extravagant sense of theatre, guests are welcomed through the large double doors of this Moscow institution into an unapologetically flamboyant dining room where art meets indulgent elegance on a grand scale. Re-enacting the nostalgia of the opulent aristocratic lifestyle, Café Pushkin with its liveried waiters, vintage furniture and glamorous baroque touches is a colourful testament to imperial Russia. For the authentic and sophisticated Moscow experience, head to the Library or the Mezzanine, two baroque-style halls embellished with precious antiques and floor-to-ceiling bookcases.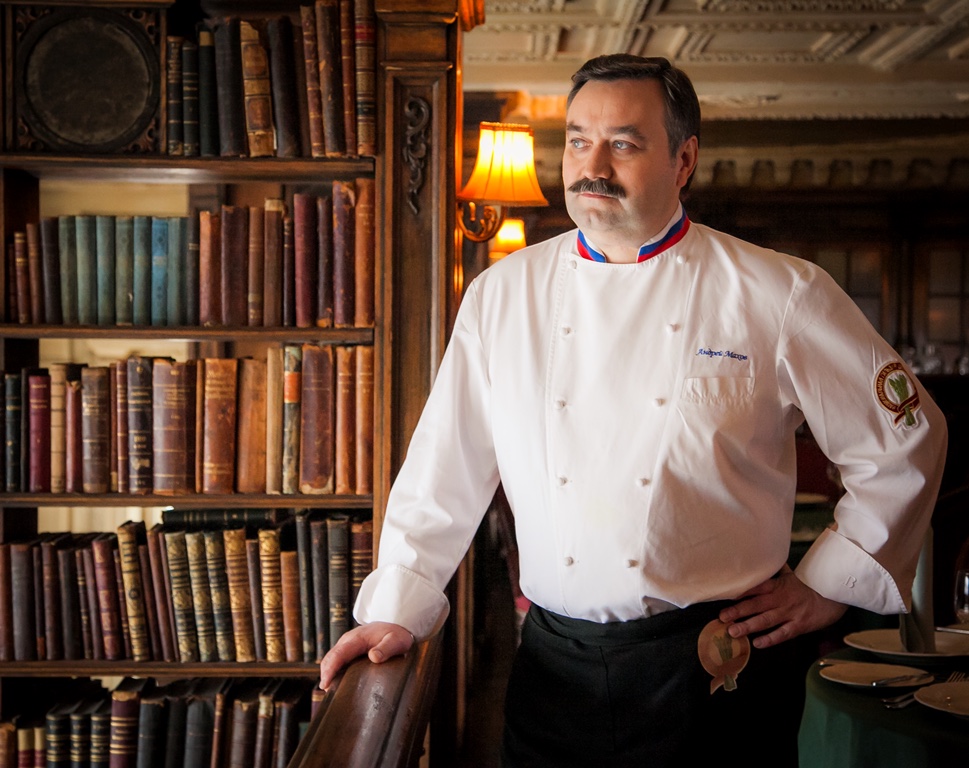 Inspired by the ideas and customs of Pushkin's times, resident Head Chef Andrei Makhov recreates historic recipes with contemporary flair. The menu provides the big hitters you would expect, from herring "a la naturelle" and classic beef stroganoff to a Gzhel-inspired desert. Pushkin would probably have ordered all three.
Soviet-Era Nostalgia for Lunch: Grand Cafe Dr. Zhivago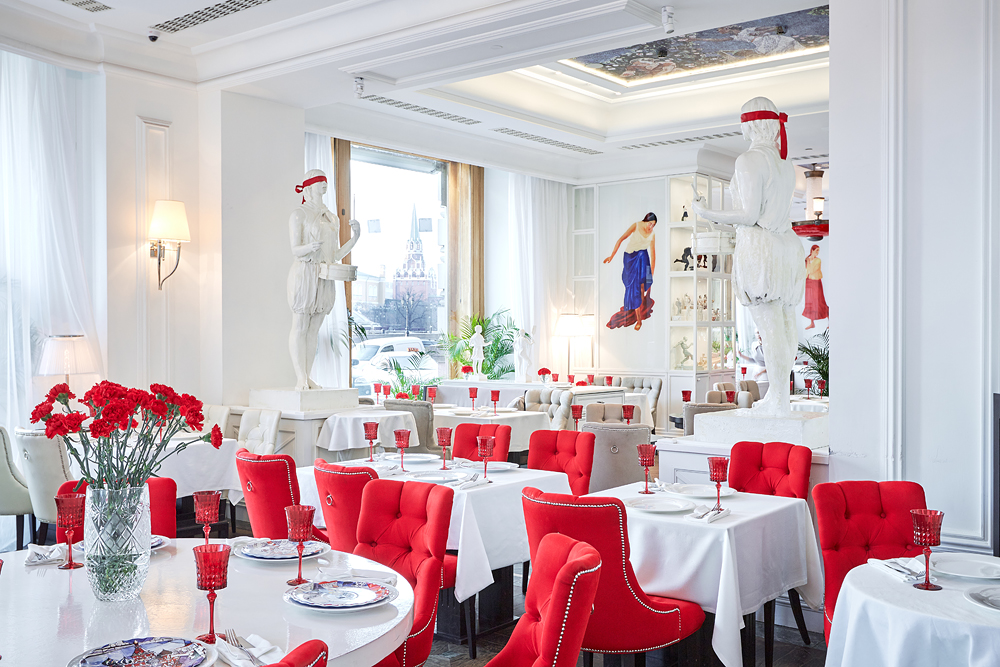 Named after anepic dissident novel by Boris Pasternak, Grand Cafe Dr. Zhivago serves up Soviet chic cuisine at affordable prices and, although this dazzling neo-classical establishment is welcoming guests around the clock, it is almost always fully booked.
Offering a coveted view of the Kremlin through the double-height windows of the landmark Hotel National, Grand Cafe Dr. Zhivago is a glamorous take on Soviet nostalgia. The brazen decor draws inspiration from the vivid colours and shapes of the revolutionary posters. Flanked by statues of blindfolded pioneers and peppered with the artwork reproductions of Malevich and Petrov-Vodkin, the snow white dining room provides a perfect backdrop for the aesthetic gourmet journey back to Soviet Russia.
The newly appointed Chef Alyona Solodovichenko has upgraded the menu of a standard pioneer camp's canteen by giving each dish an unexpected twist of playful luxury. Experience a real adventure through the gastronomic references to the different stages of Russian history, try the hearty Siberian dumplings, classic navy-style macaroni or creamy buckwheat noodles with red caviar and salmon. If you are not ready to leave quite yet wrap things up with a quintessential Russian treat, glorious Napoleon cake. Just imagine a whopping layered treat filled with creamy custard and topped with crumbled pastry melting into one perfect bite. This traditional dessert commemorates the country's sweet taste of victory over the French emperor in 1812. Baking it is a bit of a battle itself.
#13 for Dinner: White Rabbit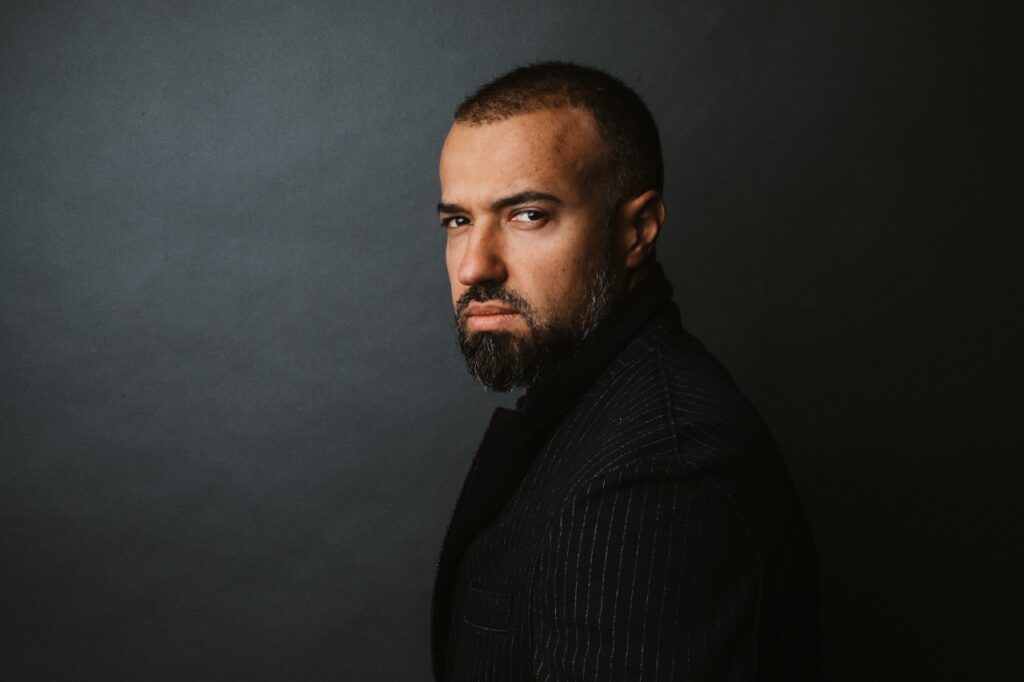 It's not everyday that you get to eat at one of the 50 best restaurants in the world. Slotted at number 13, White Rabbit is the first restaurant in Russia to receive such international acclaim for 5 years in a row, a true testament to the constant innovation and improvement of this ever-evolving hub of creativity.
Follow the white rabbit to the giant glass dome perched atop glitzy Smolensky Plaza where bright young Chef Vladimir Mukhin is stirring up a revolution. For fans of the Emmy-nominated Netflix series Chef's Table, the charismatic fifth-generation cook needs no introduction. Featured in Season 3, Chef Vladimir Mukhin is on his own quest to bring the cuisine of Russia's glorious past into the 21st century. Pushing the boundaries of what we know about Russian cuisine, Chef Vladimir Mukhin is giving a futuristic twist to obsessively researched sixteenth-century recipes and archaic Slavic ingredients most locals know only from fairy tales. It goes without saying that all the ingredients are fresh, seasonal and come from the best sources throughout Russia. You will be spoilt for choice with offerings of highly instagrammable sea urchins, deceptive cocolardo or elevated borscht, but one thing is for certain: there's no "wrong answer" here.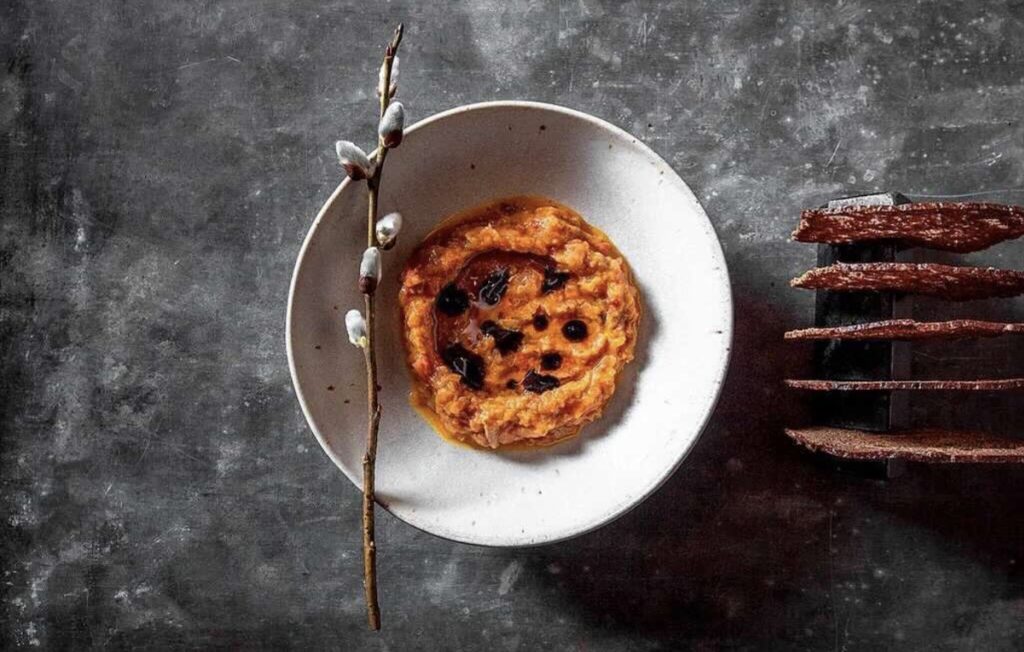 If it is your first time, you have to try the degustation set. Reflecting Chef Vladimir Mukhin's cooking path at White Rabbit, the tasting menu "Metamorphoses" is based on an allegory of the mayfly's life cycle and split into 4 stages: egg, nymph, subimago and imago. Retrospective dishes follow the evolution of the chef, the growth of awareness and deepening of his ideas. The menu features the best dishes created by Chef Vladimir Mukhin since the restaurant was opened in 2012 but the real surprise is saved for later. "Food as medicine", a final accord on the menu, is an intuitive dish individually crafted for each guest based on personality and childhood memories.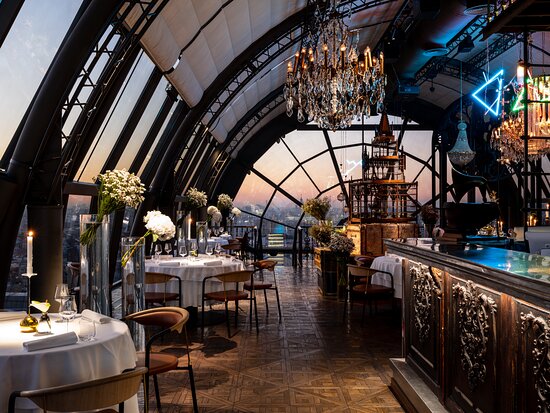 The restaurant has an unparalleled reputation for a reason, and there is only one way to find out why. To secure a spot under the giant glass dome overlooking nothing less that the Ministry of Foreign Affairs, make sure to book a table a few weeks in advance.
You can get a pretty accurate insight into another culture by simply eating your meal. Autarchy turned into a gastronomic manifesto, this alone speaks volumes about the Russian mindset. If you enjoy exploring cities with burgeoning culinary scenes, then I highly recommend a trip to Russia. There is perhaps no dining scene in Europe as flamboyant, dynamic and exciting as Moscow's.
Text by Contributor Elena Taintey, Russian luxury traveller IG @tainteytales