It was a pleasure talking with Cleo Anderson about her New Luxury Travel Show Wanderluxe on LUXE.TV
The new series will broadcast to its 462 million subscribers. Each episode will feature a new destination and follow Cleo as she presents dazzling luxury stays and her tips for an out-of-this-world luxury itinerary. The first episode of Wanderluxe is set in Greece's historical capital city: Athens.
Tell us how you started your career, how was your beginning?
My foray into the PR world was somewhat of an accident, really – I landed an interview for a PR position with the owner of a small PR agency in Bel Air, California. I was offered that job on the spot and learned the ropes in terms of how to secure media coverage and run a PR agency over a very short period of time; just three months. By that time, I had figured out that I could run something similar of my own and I launched my agency not long after, with my mentor's blessing (she was very sweet and let me have her rolodex for the U.S.). She was  an amazing woman, and we are still friends to this day. I started  working with clients within the lifestyle space – I was signing cosmetic surgeons, fashion labels and beauty brands – and I gradually moved into the luxury travel space once I had built up my team. Monte Carlo SBM was one of the first prominent luxury resorts we worked with, and things snowballed from there. Now we have worked with hotels  and luxury brands all around the world, and I have travelled the globe experiencing all kinds of hotels and resorts as a result.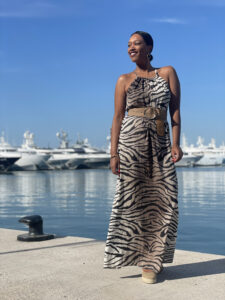 With LUXE.TV you have an exciting new series coming, tell us about it?
I have developed and also co-produce a brand-new luxury travel show with LUXE.TV called Wanderluxe with Cleo Anderson. The premise of the show is exciting – I scour the globe for wonderful destinations and find two or three ways to enjoy luxury stays within that locale. I intentionally focus on finding hotels, dwellings and resorts that are very different from each other so that the viewer really gets a sense of variety and what's available in the area. The first episode of Wanderluxe is set in Athens, Greece – one of my favourite European cities. We shoot scenes at a penthouse loft with stunning Acropolis views, at a luxury resort on the Athenian Riviera, and on a sailing yacht in the Aegean Sea. All are very different, but each unique and wonderful in its own way.
How came the idea for this series?
The way the series came about was very organic – I was approached by LUXE.TV regarding client collaborations as we work with a number of luxury brands who are an excellent fit for the channel. During that initial conversation, I just happened to mention that I had always wanted to host my own travel show; it was a completely off the cuff remark that was picked up and discussed more as time went on, and we finally came up with a final concept, a location for episode one, and shoot dates. Looking back, it was an amazing development and just goes to show that sometimes, it's good to say your goals out loud. The LUXE.TV team has been amazing to work with.
How travel Influences your life?
Both of my jobs now centre around travel, so travel influences my life greatly! There are lots of places that I have not yet seen, so I'm always excited to see and experience new places from a cultural perspective, a foodie's perspective (I love food), from an art and design perspective, and more. There are also places that I love to go back to time and time again, like Greece, Paris and Morocco. But increasingly, I push to see the new places that I have yet to see – mainly, I'm looking to soak up the atmosphere and interact with the locals. Working with a brand-new hotel or planning a future episode for the show means that I'm always thrilled to take the road less travelled. South America is definitely on my list for the future, and so is Canada.
What are some of your top travel destinations and why?
Morocco is a firm favourite of mine as it feels like being in a distant land far, far away with a vibe and a 'feeling' that you can't really describe – the food is some of my favourite food (heaven is a freshly prepared tagine with soft, warm bread). I have visited Marrakech enough times for it to feel like a home from home, and more recently went glamping in the desert, which was phenomenal. I absolutely loved Japan – I visited for the first time with my youngest sister and we covered most of Tokyo (so vibrant and forward-thinking) then we ventured out to Kyoto, which was just magical. I love Vietnam for the street food, The Philippines for the clear turquoise waters and natural habitat, and London and New York for the copious things available to you in both cities. Cappadocia, Turkey was also unique. Honestly, there are really too many places to mention.
Where can we watch your new travel series?
Wanderluxe with Cleo Anderson will be available on LUXE.TV – for those who currently subscribe it is coming soon, and for those who don't you can refer to the website Luxe.tv for more information on how to subscribe…
What is one motto you live by?
Go, see, do.
"At LUXE.TV we strive to bring our audiences the best in luxury and luxury lifestyle programming. In addition to our regular news reports from the sector, we are thrilled to introduce this original travel series featuring the charismatic Cleo Anderson. Cleo's years of experience in luxury travel and her PR know-how make her the perfect host for this new co-production."

Iva Agüero, the Chief Development Officer from LUXE.TV