Tucked away behind some trees, and visible from Glasgow's bustling Great Western Road, is Devonshire Gardens. A modest and smart row of 5 grand, Victorian townhouses that are home to luxury hotel One Devonshire Gardens by Hotel du Vin. Not always owned by Hotel du Vin, One Devonshire Gardens has a bit of a cult status in Glasgow. Whitney Houston, Kylie Minogue and George Clooney have all enjoyed stays here since the boutique hotel opened in 1986.
It was the celebrity hotel of choice in Glasgow before Blythswood Square really blossomed, and it has always had a bit of a mysterious air to it – I think in part because it is so unassuming and not really a hotel you would just wander through unless you had a booking. Hotel du Vin have really built on these exclusive vibes since they took over the property, to create a hotel that really feels like another world. Hotel du Vin Glasgow is a true luxury destination and the décor pays homage to its classically luxurious roots, whilst adding modern, colourful touches throughout. It's chic, polished and on point.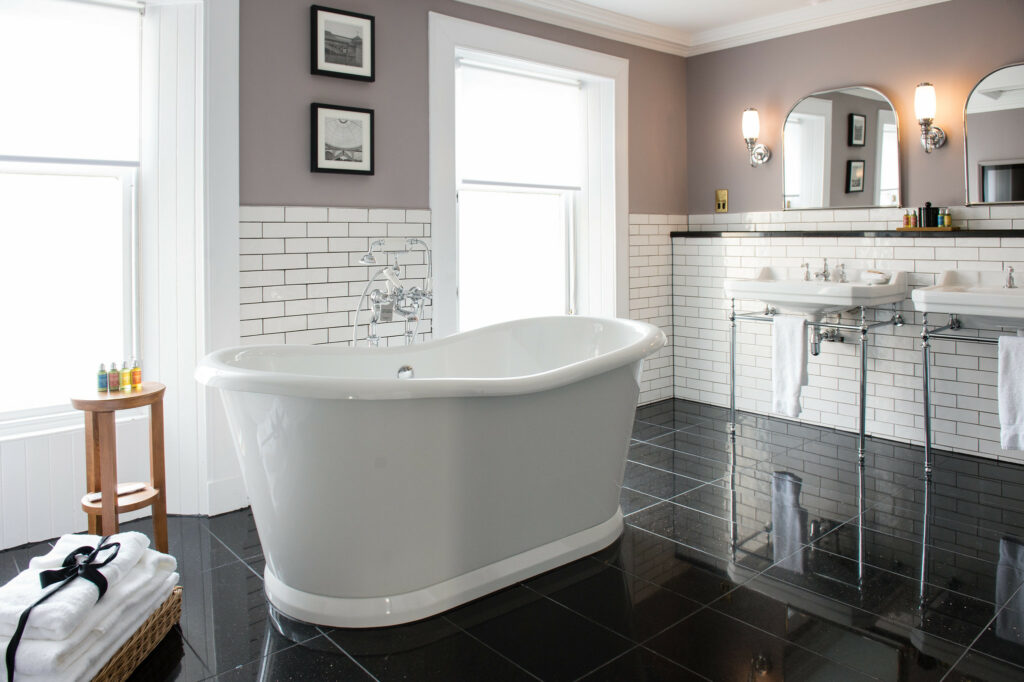 It's a quiet hotel, with only 49 spacious bedrooms and suites, so staff are incredibly attentive and aware of the needs of everyone who is visiting. It's very much a hotel where all of your needs are taken care of, but not in a stuffy, over-the-top way – staff will make you feel calm, comforted and incredibly important as they look after you with diligence and discretion. If you are staying in a suite, request one of the two suites that come with a private garden as they are a secret sun-trap and a chance to get some fresh air if you don't want to head out onto the street.
Nobody should stay at One Devonshire Gardens without dining in-house in the elegant oak-panelled restaurant lit by sparkling chandeliers. It's a true gastronomical delight and a foodie's paradise. It's very much a celebration of local Scottish organic produce, cooked and prepared in a French cuisine style. The plates you are served are works of art and almost as appealing to the eyes are they are to the tastebuds. Head Chef Gary Townsend has combined some revolutionary flavours and textures to create some incredibly exciting dishes. Dine from either the A La Carte Menu, or indulge in the 7-course Tasting Menu that's paired with some exquisite wines by the in-house sommelier. It's all about the visuals and the unique flavour combinations here. Freshly-baked bread, aesthetically-pleasing canapes and post-dinner sweet treats accompany every meal and are a treat to all senses. After dinner, retreat to the whisky room to enjoy an expertly-selected tipple before bed.
Hotel Du Vin One Devonshire Gardens is a destination hotel that's perfect for disconnecting from the world, or enjoying some dedicated time with the person you love. The pace is slow and relaxed here. The hotel and restaurant are designed for indulgence, so take your time to enjoy your chic surroundings, the sublime food and the quiet environment. Wander and admire the stunning architecture, including intricate mosaic tiled floors, sweeping oak staircases and some breath-taking 19th century stained glass windows specially-commissioned by shipping magnate Sir William Burrell, who long ago lived in townhouse number 4.
A stay here at one of Glasgow's most prestigious addresses will feel like the height of luxury whilst also feeling like a home away from home.
Hotel du Vin One Devonshire Gardens, 1 Devonshire Gardens, Glasgow G12 0UX
0141 378 0385
Rooms from £174 per night. Check-in from 3.00pm, Check-out at 11.00am.