Upon arrival at the Male International Airport, you will be greeted by a Pullman representative and escorted to the domestic terminal for a scenic 55-minute flight to Kooddoo Airport, followed by a thrilling 15-minute boat ride straight to your destination. A venture of 230 miles south of the capital will bring you to one of the most far-flung resorts in the country, the hip and trendy Pullman Maldives Maamutaa. This delicious slice of heaven ticks all the boxes for travellers craving effortless luxury with a dash of fun. Nestled within the tranquil waters of the Gaafu Alifu Atoll, the hotel boasts 122 sumptuously appointed villas strung across an 18-hectare pristine island, catered by a host of restaurants and bars and complete with an overwater spa and even a natural lake!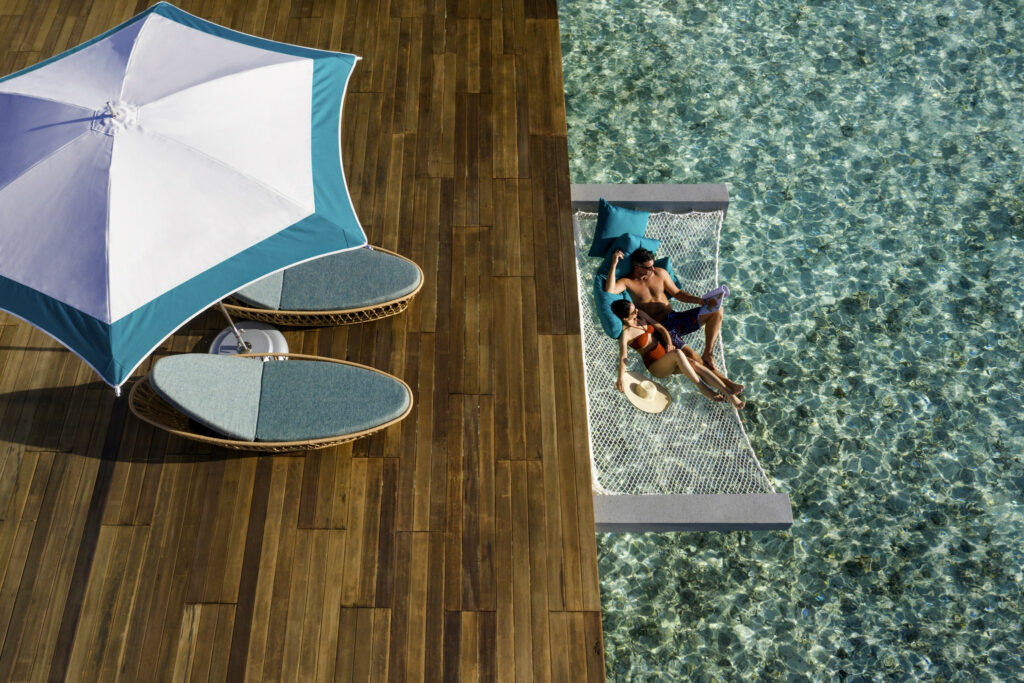 Conceptualized by French interior designer Isabelle Miaja, the creative force behind numerous five-star projects in the region, Pullman Maldives Maammutaa blends a reverence to local culture with contemporary flair. Modern urban-style villas with thatched roofs, that recall the traditional Maldivian striped sarong, reflect the concept of cultural fusion that is at the core of Pullman's DNA. Juxtaposed against the majestic ocean, the resort encompasses a dazzling line up of overwater and beachside villas, each with its own personality and appeal, but it is the mesmerizing Aqua Villas that steal the show! Set across two levels, these stunning residences promise a truly immersive encounter with the hypnotic marine life, allowing their guests to be one with the Indian Ocean. For a once-in-a-life experience, make your way down the spiral staircase to your private underwater aquarium. Just imagine admiring an endless tropical reef from the comfort of your bed – Neptune himself never had it so good! At 1,216 square feet, each Aqua Villa features two bedrooms, a living room, a spacious bathroom and a terrace with a private pool. As a contrast to the lower floor, the main level is decorated with a brighter palette, including white-painted walls, lofty wooden beam ceilings and added splashes of colour that reflect the azure surroundings.
For a grander, more private stay, the four-bedroom Ocean Pool Retreat, designed to comfortably accommodate up to 10 guests, is an ideal abode for extended families and groups of friends who appreciate the very finest that life has to offer. Spread over 4,835 square feet, it comes with separate living and dining pavilions flaunting a fully equipped kitchen, indoor fitness area, spa room with hammam and an ample sun-drenched deck with a jacuzzi and private swimming pool. Watch a daily parade of kaleidoscopic schools of fish, magnificent stingrays, giant turtles, and harmless baby reef sharks without even getting your feet wet and, when night falls, the sundeck will double up as an excellent vantage point for stargazing – the skies are phenomenal there!
Luxurious accommodations surrounded by sand beaches and crystal-clear lagoons are even better with a no-hassle all-inclusive package, one of the most generous in the Maldives. Taste and toast your way around the resort with a curated collection of dining experiences seamlessly orchestrated by Executive Chef Nyoman. No matter what kind of connoisseur you are, let the voyage begin!
A peaceful morning scene you picture for your dream vacation starts at the poolside Melange, the all-day dining restaurant that promises its guests a multisensory gastronomic escapade from dawn till dusk. Enjoy a fantastic buffet spread of international cuisines with six live cooking stations where meals are prepared a la minute.
To regain energy between adventures, treat yourself to lunch at Souq Oven, a stylish fine dining restaurant set against a backdrop of glistening ocean. Enthralling diners with elegant presentations, the menu puts the spotlight on fresh seafood and premium cuts while also featuring an array of traditional Italian recipes. Taking the all-inclusive concept to an entirely new level, Souq Oven is home to over 80 handpicked labels of wine courtesy of Vinoteca by Pullman. Should you need a recommendation, a resident sommelier will be happy to find a perfect pairing for your choice of meal.
In the evening, delight in the variety of flavours at Phat Chameleon, an interactive garden-to-fork dining venue where guests get to harvest the ingredients for their plant-based meals. Set in the resort's organic garden, the restaurant helps to forge a deeper connection to the land while serving innovative creations for vegetarians, vegans and the culinary curious. The richness of this setting only lends to those secluded vibes as tables are filled with gourmet plates created to challenge and expand your taste palette. Smoked coco bean veloute or homemade tofu wrapped in banana leaves, at Phat Chameleon things can be as simple or complex as you want them to be.
Lounging in the overwater netting with comfy pillows can be an amazing way to spend a vacation! Saffron Affair creates one of the best spots to surrender to the miraculous sunset shades while enjoying the premium cocktail and wine selection, accompanied by locally inspired bites. For something more casual, opt for healthy snacks and freshly brewed coffee at Sol Rising, a laid-back bar which also serves as an alternative breakfast venue catering for sunrise lovers, or toast your fortunes at the Hub featuring a vast range of handcrafted cocktails both on and off the menu. For those on the go, there is also the playful Bites on Wheels, a pop-up food cart delivering refreshing sorbets, lights snacks and tropical fruits wherever needed.
Dedicate some time to yourself and step into the world of care and ultimate relaxation or treat your loved ones to a precious moment of rejuvenation at the Spa by Phytomer. An exciting collaboration between Pullman and Phytomer, a high-end skincare brand originating from France, it offers a variety of wellness rituals based on the preventative principles of the Eastern medicinal approach and more functional, results-centric Western influences. Imbued with traditional Maldivian charm, the spa hosts 8 private pavilions spread over a pristine lagoon, each opening up to an ocean panorama with nothing but blue in sight. To elevate your holiday experience up to the next level, create your own version of bliss by choosing from a carefully calibrated menu of restorative body treatments, massages, facials, couple's rituals, beautifying and multi-day wellness packages.
Everything at Pullman Maldives Maamutaa feels like an adventure, making it a fitting destination for families travelling with kids. The resort welcomes and celebrates little guests with 2 entertaining hubs, Playground and Skillz, designed to stimulate and excite their inquisitive minds with a wealth of fun and educational activities from treasure hunts and nature walks to board games and crafts. And who says kids can't enjoy the lap of luxury too? With dedicated spa treatments, restorative meditation sessions and fun yoga classes, young explorers also have a chance to dip their toes into the world of wellness as a solo experience or a shared moment with parents.