There are a few places on the planet with dazzling electric-blue waters and dreamy powdered sugar beaches, but it is hard to imagine any destination topping the natural splendour of the Maldives. Hidden away in the vastness of the Indian Ocean, halfway between Indonesia and East Africa, the world's lowest-lying nation is an astonishing constellation of picture-perfect lagoons, sandbars and 26 atolls spanning nearly 1,200 tropical islands.
Whether it be a solo beach holiday, romantic honeymoon or family trip, jetting off to the faraway Maldives is just the ticket for those seeking the ultimate in rest and relaxation. As your plane parts the clouds, revealing the emerald islands waiting below, get ready for a pure escapist experience in the most stunning of settings.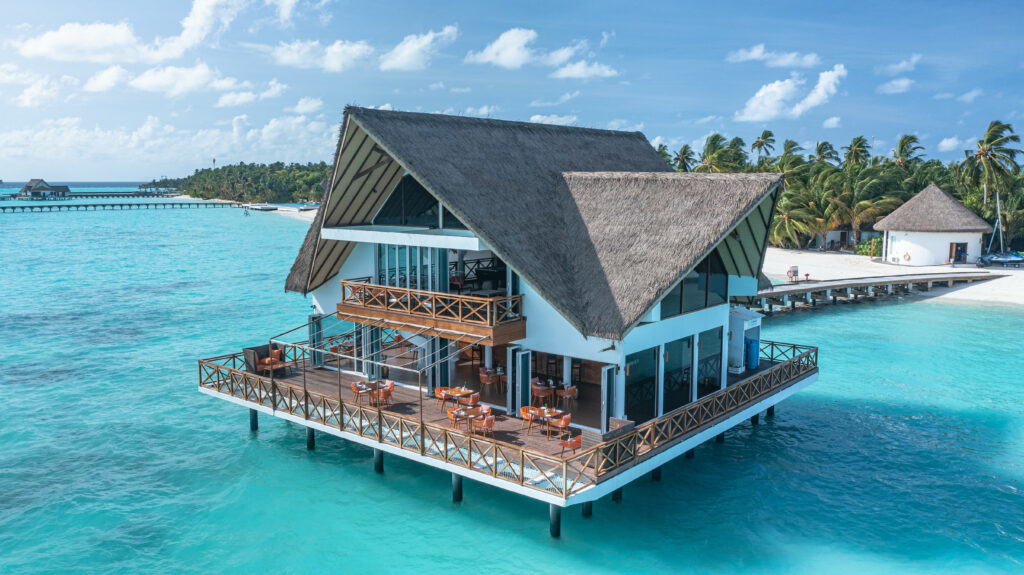 Nothing facilitates romance like an adult-only resort set on a remote island. One of a few places in the world where you feel away from everything but still have it all, Mercure Maldives Kooddoo is what luxury all-inclusive dreams are made of.
With only 69 villas, sprawling over water or scattered along the white sandy beach, the resort exudes a contemporary feel with an added cozy touch. Encapsulating the Maldivian heritage at the heart of design, the interiors showcase local sustainable materials and colourful indigenous fabrics while offering all the modern-day amenities and creature comforts of true indulgence.
Cocooned by flourishing foliage, each Beach Villa offers generous indoor-outdoor living space and a warm ambiance to live out your Maldives adventure. Relax into island life by soaking up the sunshine on the patio or take a plunge into your private pool secluded by lush palms. If being lulled to sleep by the sound of waves lapping beneath your bed tickles your fancy, upgrade your stay to a splurge-worthy Overwater Sunset Villa. Catch a glimpse of the colourful aquatic life through the illuminated glass panel embedded in the floor or, better yet, claim a front row seat to nature's most spectacular show and admire unobstructed sunset views from your private deck.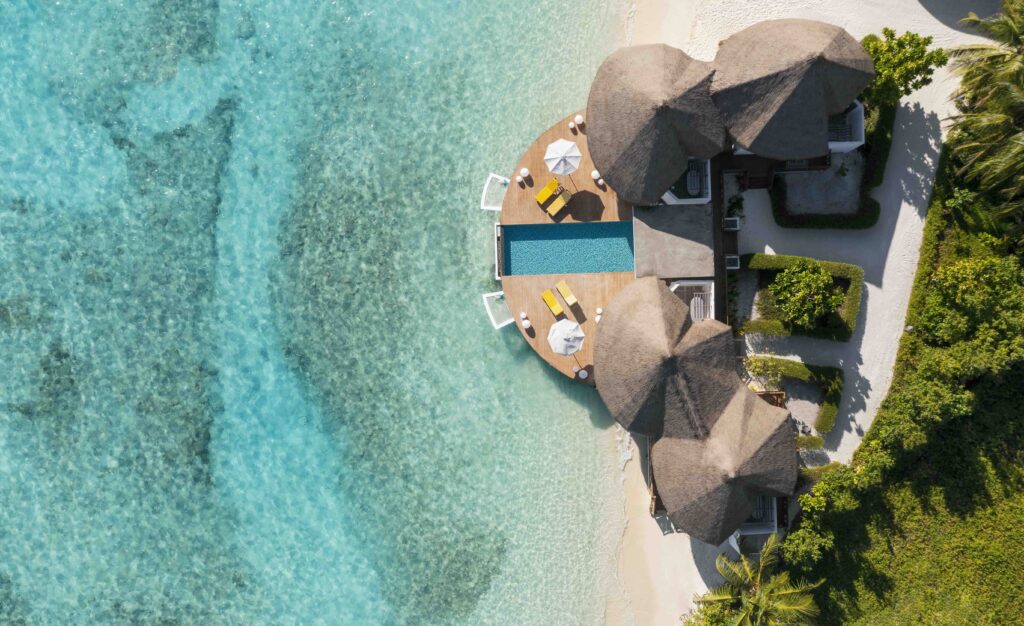 Journey through an unparalleled culinary affair ranging from casual simplicity to fine gastronomy at 3 different dining venues, each with its own unique influence. Alita, the resort's signature buffet-style restaurant, is a melting pot of cuisines alive with flavour from dawn to dusk. After energizing your morning with a bountiful breakfast spread, Executive Chef Kapila Rosan spices things up with rotating themed nights. Open for lunch and dinner, an overwater a la carte Vista serves up unpretentious homemade dishes, inspired by authentic Italian cooking and paired with over 40 labels of lovingly chosen wine. Few places take their sundowners as seriously as Mercure Maldives Kooddoo. Toast your fortunes with an artfully blended cocktail or perhaps a rum-infused iced lolly at the resort's pool bar set against panoramic ocean views.
No holiday in the Maldives is complete without a romantic dining experience. Whether it is your birthday, anniversary, honeymoon, or you just want to celebrate being on vacation in paradise, you are in for a treat. Imagine waking up in your villa and finding a ritzy tray, jam-packed with fine and spectacular breakfast delicacies, drifting in wait in your private pool. The decadent optics of grazing on fruit and croissants while floating around in your swimwear is simply too tempting to miss! If you are not a morning person, soak up the soothing sounds of the Indian Ocean as you enjoy a flawless private dinner service beneath a brilliant canopy of stars. Be it a lobster and champagne extravaganza or traditional Maldivian offerings, each menu can be tailored to suit your taste.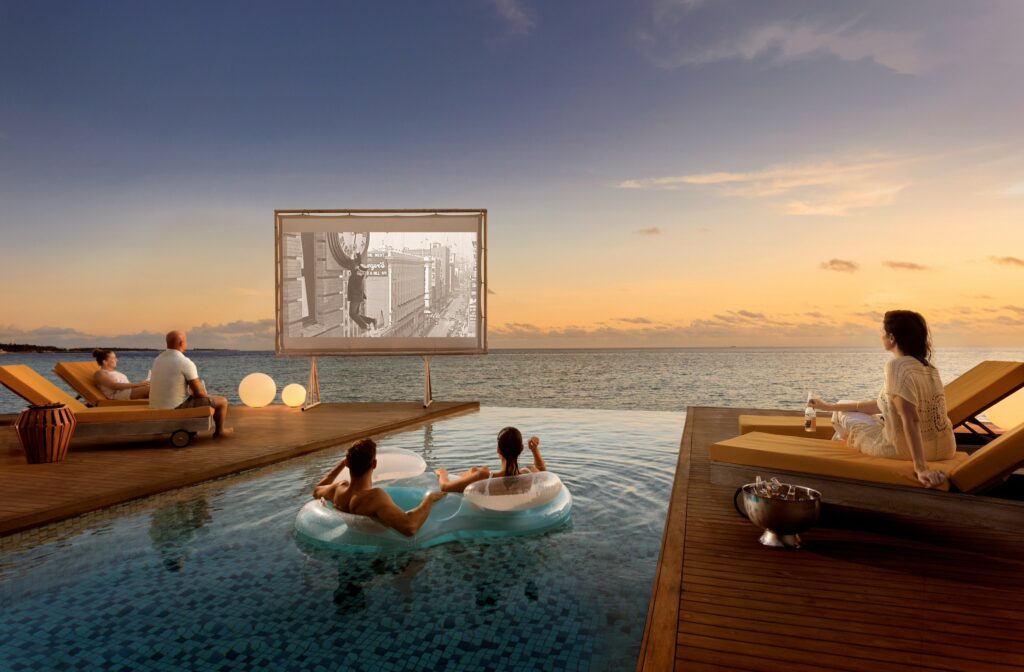 Wrapped in the lush embrace of jungle, Suvadiva Spa comes with 6 private treatment rooms, both indoors and outdoors, where bespoke indulgence is delivered by a team of attentive and knowledgeable wellbeing experts. Discover perfect balance as you surrender to a signature 2-hour pampering that combines coconut scrub, body massage and hair treatment or experience the literal sweet relaxation of the Chocolate Lovers package which includes cocoa and rice exfoliation, clay and chocolate mask and a full body massage followed by a bathing ritual for two.
Whether you are a serenity seeker or an avid explorer, Mercure Maldives Kooddoo offers a myriad of complementary activities along with unparalleled access to marine experiences and exhilarating water sports. Do as much or as little as you like – turn off your phone and take in the inspiring surroundings with a cocktail in hand or don a mask and discover the untamed beauty of nearby coral reefs. From dolphin cruises and kayaking to jet skiing, guided snorkelling and scuba diving tours, the Gaafu Alifu Atoll invites you on an extraordinary adventure that will spark your wanderlust and fill your soul with excitement.