Text by Laura Pearson Smith
5 of the best luxury candles to get you excited for spring
Spring has sprung and many country's Covid lockdown restrictions have started to ease, promising us fun times ahead with friends and family. If, like many of us, you've forgotten what it's like to wear heels or make a dinner reservation, you'll need something to boost yourself back into socialite mode.
These are 5 of the best luxury candles to get you excited for spring and all those sparkling social occasions. From scents to calm your social anxiety and remind you of the outdoors, to scents that excite, invigorate and scream mingling.
August & Piers Socialite Candle – £59 from August & Piers
This is the most luxurious of candles to remind you of your best self. Housed in a weighty ceramic pot, it's minimal aesthetic is the very definition of chic. If the word 'fashionable' had a smell, this would be it. Warming honey, amber and pomegranate mix with wood and aquatic notes to conjur images of the most opulent of cocktail parties.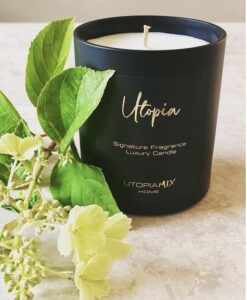 Utopia Mix Signature Fragrance Candle – £28 from Utopia Mix
This elegant black jar will add a bougie touch to your coffee table. Smelling this will make you remember spraying your favourite evening perfume for a night out. It has that deep, heady scent that all those fragrances we keep for special occassions seem to have in common. Amber, patchouli and leather notes mix with lighter, zestier orange, grapefruit and mint to give you a beautifully moody, elegant scent that has that underlying promise of excitement.
Crystabelles Juicy Raspberry & Rhodonite Candle – £24 from Crystabelles
The pairing of candle scents with crystals is a delightful idea. This has such a true-to-life, juicy raspberry scent and comes with a beautiful, speckled pink Rhodonite crystal that you can keep once the candle has burnt down. The energy said to embody this crystal is a youthful and passionate one. It's a crystal that's meant to attract good things to your life and help you keep moving forwards. It's also supposed to bring you physical and emotional strength; something that we're all going to need as we learn how to be social beings again. The raspberry scent won't fail to get you excited for warm, sunny days and the outdoors.
Glow Wellness Candles Energy Candle – £20 from Glow Wellness Candles
These 100% natural, organic and eco-friendly candles are made with 100% essential oils, as well as cleaner burning rapeseed and coconut wax. This sexy and energising scent has a distinguised masculine air and evokes images of the most successful of date nights. If your love life has been non-existant over the pandemic, this candle will inspire you to get back out onto that dating scene. Top notes of warming chocolate, orange, bergamot and mandarin mix with heart notes of amber, lily, lavender and jasmine. Base notes of musk, vanilla, sandalwood and moss turn this into a delicious aftershave-evoking scent.
Prismologie Sapphire & Oud Massage Candle – £49 from Prismologie
If thoughts of going back out into the world (and mixing with others in a way that isn't on Zoom) is making you anxious, it's completely understandable. It's going to take time and practice to be able to re-adjust to a post-Covid life. The beautiful scented 'wax' from this candle can be used as a massage oil when warmed to treat your body to a skin conditioning treat. Made from moisturising Wild Mango Butter and softening coconut oil and soybean oil, this oud and vetiver scented candle will help calm and quieten your mind; giving you the energy to get back out there.
You can see more of what I'm loving on my Instagram at @lpearsonsmith