ZUBER French wallpaper manufacturer since 1797
The oldest wallpaper factory still in use in the world,

Zuber

is a true national treasure.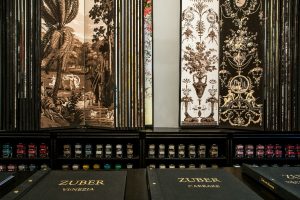 Established in Rixheim, Alsace in 1797, Zuber still prints each creation by hand thanks to an exceptional savoir-faire combined with a carefully preserved heritage. Zuber's archives contain some 130,000 designs and 150,000 woodblocks – carved by its workers between 1797 and 1830, the latter now listed Monuments Historiques.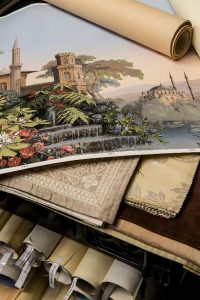 Zuber has an infinitely rich repertoire: earthly paradises, magnificent horizons, fantastical bestiaries, luxurious flora, breathtaking landscapes, architectural treasures… allowing Zuber's creations to adapt to all decorative styles, from interiors full of history to the purest of designs. Zuber exports their products internationally to meet all demands for both style and technical prowess, such as the ceiling of a yacht. Each wallpaper is therefore unique.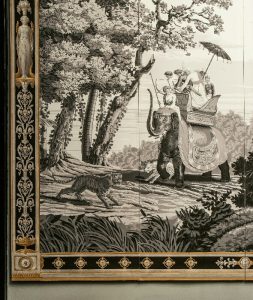 Wallpapers, scenic decor, colour-coordinated fabrics… Zuber's numerous collections offer a variety of wall decorations and custom-made pieces, such as the option to change the colour of the background or the entire piece, as well as the choice of texture of either paper or fabric. 
Given that everything is made in the factories in Rixheim, it takes 4 to 6 weeks to manufacture a custom order. The cost of a panoramic scenery is between 500€ and 1000€ per roll.
SCENIC WALL DECORATIONS

Zuber's speciality, the first scenic wallpapers appeared in 1804. These beautiful pieces represent a complete landscape, with each piece offering a new scene or motif. Each wallpaper roll connects to another. 
Today, Zuber manufactures around thirty different panoramic sets, all bearing enchanted and evocative names: Eldorado, Isola Bella, Hindoustan, Alhambra, Vues de Suisse, Vues du Brésil, Vues d'Amérique du Nord, Vues d'Italie… not to mention the latest collection, Chinoiseries (for which they have made several matching upholstery fabrics).

Subtle in colour, these wall decorations are also available in sepia and grayscale. Nowadays these sceneries appear in very modern interiors, whether private or public (such as hotels and restaurants). From Paris to Hong Kong, via New York, these wall decorations travel the world.
WALLPAPERS
Stripes, decorative patterns, architecture and wildlife, murals, the wallpapers themselves reflect the savoir-faire and the rich heritage of Zuber.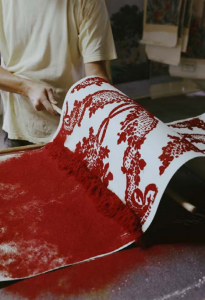 Among the 2018 additions:
• The Birds collection (with matching upholstery fabrics), coloured and inspired by 19th century designs of the natural world.
• The Carrare collection imitates marble to perfection but in a more "glamourous" way thanks to the powdered gold finish of the paper. 
Zuber holds several printing patents allowing different effects on the texture of the wallpaper, including:
• Iridescent printing (developed in 1819) which involves applying each colour simultaneously using several brushes. A complex process first used to depict the famous gradients of panoramic skies.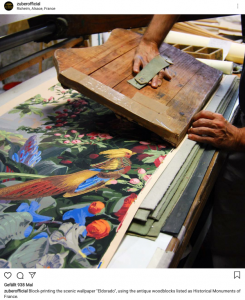 • The creation of stripes through the use of a trough (this process has existed since 1843). A roll of wallpaper (previously covered with the background colour) is placed under a rectangular brass tray with holes of various widths pierced at the bottom, therefore allowing one or more colours to pass through simultaneously. In Rixheim today, one hundred old troughs are used to make the different stripe patterns.
• The technique of velveting or flocking (dating back to 1852), which allows you to create a material finish and to accentuate the depiction of the mural.
UPHOLSTERY FABRICS, LEATHERS AND PAINTS
Whether they're made from cotton, linen, silk or velvet, the various upholstery fabrics are made to match, or to not match, the wallpaper, scenery and leather collections.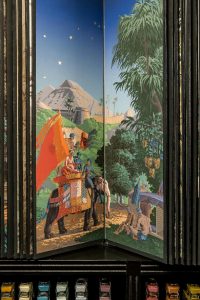 Another unique feature of Zuber is their use of the technique of embossing or repoussé, which consists of using pressure to create an impression design on the wallpaper, leather or fabric. For this they use ancient copper plates, classed as Monuments Historiques.