Salvatore Ferragamo is one of the world's best known
Made in Italy luxury brands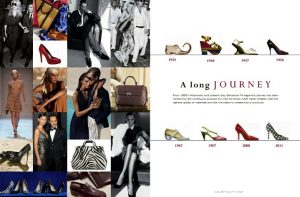 The company's history dates back to the early 1900's, when its founder, Salvatore Ferragamo, along with many other Italians at the time, emigrated to the United States from a small town in Southern Italy, and became famous in Hollywood making made-to-measure shoes for the stars of the new movie industry.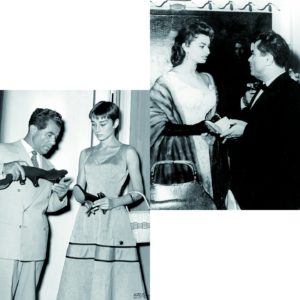 Salvatore Ferragamo with Sofia Loren in Rome. She launched at the Club Open Gate the new Ferragamo's invention, the sea-leopard skin. 1955. Photograph by Meldolesi.
Salvatore Ferragamo with Audrey Hepburn at Palazzo Spini Feroni in Florence. Photograph by Locchi Historical Archive, Florence.
"My shoes must satisfy the people for whom they are designed…
The strength of my name is in each pair of shoes I offer"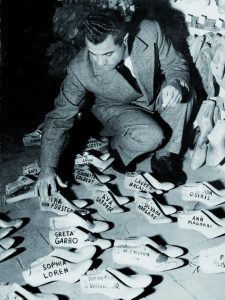 The shoemaker's creativity, the fine craftsmanship of his work and the incomparable comfort of his shoes soon made Ferragamo a name synonymous with original design, high quality, and a perfect fit. However Ferragamo only become a brand after Salvatore returned to Italy in 1927 and settled down in Florence. Here, one man's dream gave life to a company that produces more than 350 pairs of shoes every day and employs 750 shoemakers working in a state-of-the art factories Ferragamo started to produce exclusive shoes for celebrities all around the world and movie stars like Greta Garbo, Audrey Hepburn and Marilyn Monroe.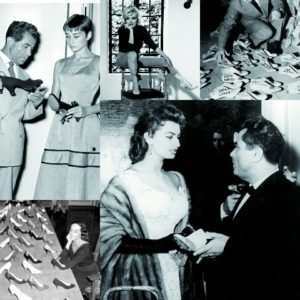 In the 1930s and 40s when leather became scarce, Ferragamo made one-of-a-kind shoes by experimenting with more readily available materials, such as cork and cellophane. He patented styles that changed the course of shoe design history, like the cork wedge and the invisible sandal with an upper made with a nylon fishing line. After the Second World War, film stars, royalty and the international jet-set flocked to the Ferragamo showroom in Palazzo Spini Feroni, a medieval building in the heart of Florence and the company's headquarters since 1938, to attend fittings and make personal orders. They went there to personally order extraordinarily original and high-quality shoes.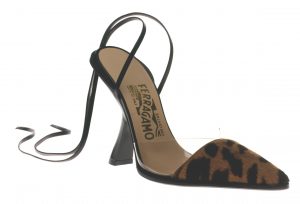 After Salvatore's death in 1960, the brand kept its prestige and excellent reputation. A new chapter began thanks to the capable hands of his wife Wanda and their six children, whose business acumen and strong values developed the brand further and included the expansion of both the distribution network and the product range. In 1995 Ferragamo opened a Museum in Florence celebrating the founder's creativity. A few years later, on the 5th December 2006 the Museo was re-opened in a new location in the basement of Palazzo Spini Feroni. Ferragamo's Creations: a number of iconic shoe models, as displayed within the Museo, have been reproduced and are available in Salvatore Ferragamo's Florence store and in top stores worldwide.