We have had the pleasure to meet and talk to one of the best polo players in the world, Nacho Figueras.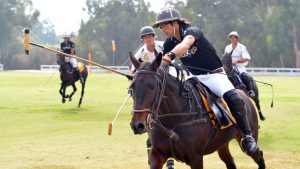 Nacho Figueras is a man who loves horses. In fact, he loves them so much that in June 2010, he brought one, a polo pony named Duke, into the New York Stock exchange to ring the closing bell. Figueras and Duke were there to promote the Veuve Clicquot Polo Classic, a free charity event with Prince Harry played on New York's Governor's Island that weekend and it was the first time a horse had ever entered the NYSE.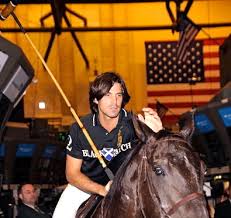 Such is the man that is shaping up to be the most famous face of polo. He is one of the most handsomest men in the world, the 34-year-old Figueras is the face of Ralph Lauren's World of Polo fragrances. It's a role that dates back to 2005 when he was named to model Ralph Lauren Black, and most recently, Figueras and his wife, the photographer and former model Delfina Blaquier, have together starred in the advertising campaign for the Ralph Lauren fragrance, Romance.
For Figueras, who grew up in a middle-class family in Argentina, he never could have imagined he'd one day be the face of Ralph Lauren. "When I was 12 years old," he once told the Charlie Rose Show, "My uncle gave me a Ralph Lauren shirt…with a little polo thing. You know, I couldn't say, okay, I will have one in blue, one in a white one, and a red one. I just had one. So, I kept it in my closet. And you know, 20 years later, I'm here representing them."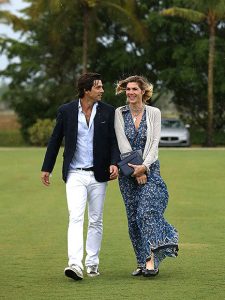 When asked how he balances all these roles today – world-class polo player, brand ambassador, and also yes, horse breeder and a father-of-four ­– Figueras shrugs it off. For him it's about polo, first and foremost. "Having my face in all these magazines, advertisements and billboards has given me the recognition to be able to promote the sport of polo, which is ultimately what is important to me."
Figueras always knew since he was a boy he wanted to be an athlete, and he started playing polo at the age of nine. In fact, he began on a borrowed horse, playing polo on his father's best friend's farm. As he recently recounted to an Australian magazine: "I started playing at nine but I didn't love it until I was 14, 15. One thing was, my friend was really good, he started riding when he was two and in the beginning he was a lot better than me, which bothered me. It took me a while to get over that. I was doing track and field at school and I was pretty good, so I didn't know whether I wanted to run or play tennis. I loved sports but I didn't know polo was the one until I was 14 and started playing tournaments."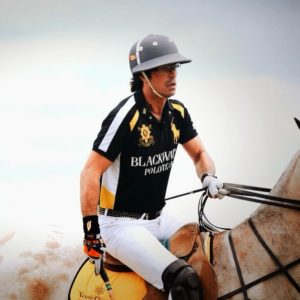 Figueras turned professional at the age of 17, going on to play throughout Europe and the US, where he now plays, co-owns and also captains the Black Watch team. But it's Figueras' own tale and background a man whose modelling career has turned him into a worldwide celebrity – which inspires him to tell the world over about the sport of polo.
"I see myself working with brands, and doing more events in the world, to raise the awareness of the sport," he tells POLO & Lifestyle the London Magazine. "Sharing in the passion that we have for polo as a platform, to send a message about the things that are important in polo – like tradition and keeping up the tradition of the sport all around the world."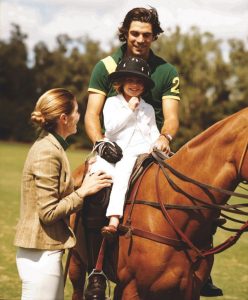 Indeed one can say that Figueras himself is something of a traditionalist. Often pictured with his wife and four children – Hilario, Aurora, Artemio and Alba – Figueras makes family his prirotiy. They go to the barn together and have a great time "just hanging out": "The great thing about being a polo player, the face of Ralph Lauren's Polo fragrances and also being a father is that it all works together. I am a father who travels the world with his wife and children playing polo – that is exactly what the world of polo represents."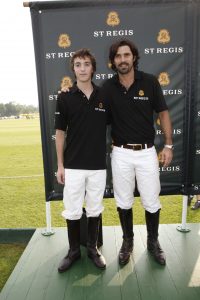 And what about his passion for horses? For a man who, after all, brought the first ever polo pony into the NYSE, horses are Figueras' bedrock – and teach you about life, he says. "They teach you responsibility, respect, trust. The horses don't care who you are; they care about how you treat them and about that relationship. My son plays polo and I think it's wonderful for him not because of what polo represents but because of that responsibility that he needs to have in terms of taking care of the horses. You don't play polo and just go home. You don't throw the racquet in the car when you finish. You have to get ready for the game, get the horses ready, make sure they are feeling okay, play, and then make sure the horses are okay after the game. You have to feed them, shower them, clean them. It's a whole process that teaches you a lot, and requires a lot of responsibility and focus. Polo is also a very fast, dangerous sport, so you cannot be distracted or not focused or feeling unhealthy."
Figueras, who breeds horses in Argentina, also believes they are the secret to being a great polo player. "The relationship with the horses is the most important thing. It's substantial. You have to love your horses, love the sport. And the relationship with the horses and everybody that works with horses – the grooms, the blacksmiths, the veterinarians…Once you get really involved and you know exactly what you are doing – what horse would do this or such thing in the field where you are playing – that's the basic. Then it's just playing and practicing; being there every day – rain, snow, cold, hot…trying and pulling everything."
Said like a man who is dedicated and passionate, and whose own philosophy is: "Nothing is impossible. You have to follow your dreams." And such dreams, and visions, we will be keen to watch come true.
It was a pleasure meeting Nacho and talk about the king of sport, sport of kings.