It was a pleasure for us to talk to London-based jewelry designer Anabela Chan. In an exclusive interview with POLO & Lifestyle the London Magazine she speaks about her magical jewelry.
What drew you to become a jewelry designer and inspired you to start with your own brand?
Jewellery is empowering, it brings joy, inspires emotions and elevates the spirit like no other. It is about offering inspiring, beautifully-crafted jewels with longevity; works of art that are proudly worn, loved and treasured forever from one generation to the another.
As a designer/maker trained artistically with no formal business training, I have built my brand organically with a defined vision, a lot of common sense and gut instincts. I founded my eponymous brand six years ago on graduation from the Royal College of Art, where I trained for my Master of Arts in Goldsmithing, Silversmithing and Jewellery; and launched my brand with Selfridges, The Conran Shop and Luisa Via Roma with five international awards from Vogue Talents, The Goldsmiths Craft and Design Council and Gemmological Association of Great Britain.
What are some of the materials you use in your jewellery collection?
When I first launched my brand five years ago, laboratory-grown and created gemstones were almost deemed untouchable in the fine jewellery industry; they were often viewed as a lesser 'pretend' material. Yet I find them not only incredibly beautiful but also a fascinating feat of science and art fused together; gemstones grown in a science laboratory like growing crystals in a meticulously controlled environment without the untraceable provenance and ethical issues associated with mining. We were the first to truly champion and celebrate these stones with intricate, unique and hand-crafted designs.
As the world becomes more focused on sustainability and the future, so has every industry and we have since seen global mega-brands like DeBeers and Swarovski launching laboratory-grown diamond collections as part of the ethical luxury initiatives.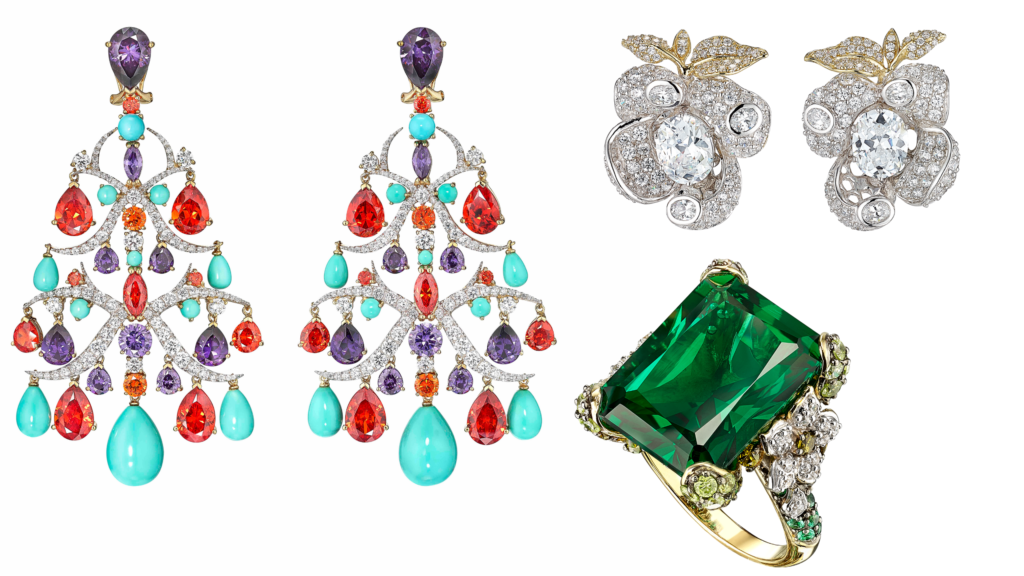 Who or what is your biggest inspiration?
When I founded my eponymous brand on graduation, it was my mission to offer a different perspective in the industry – I wanted to create equally beautiful and fabulous one-of-a-kind jewels using laboratory-grown and created gemstones without the conflict, humanitarian and environmental issues and untraceable provenance associated with mining. I find a potent synergy in the juxtaposition of precious and non-precious, natural and man-made materials, it is luxury with a touch of humbleness. As a designer I choose to focus my work with lab-grown, created and recycled gemstones and metals; I also admire the work of other designers who champion recycled materials, who work solely with reputable mines and support small scale artisanal miners directly. As with all design discipline, I believe it is about learning from the past, to offer a different perspective in the present, and always with a dream for a better future.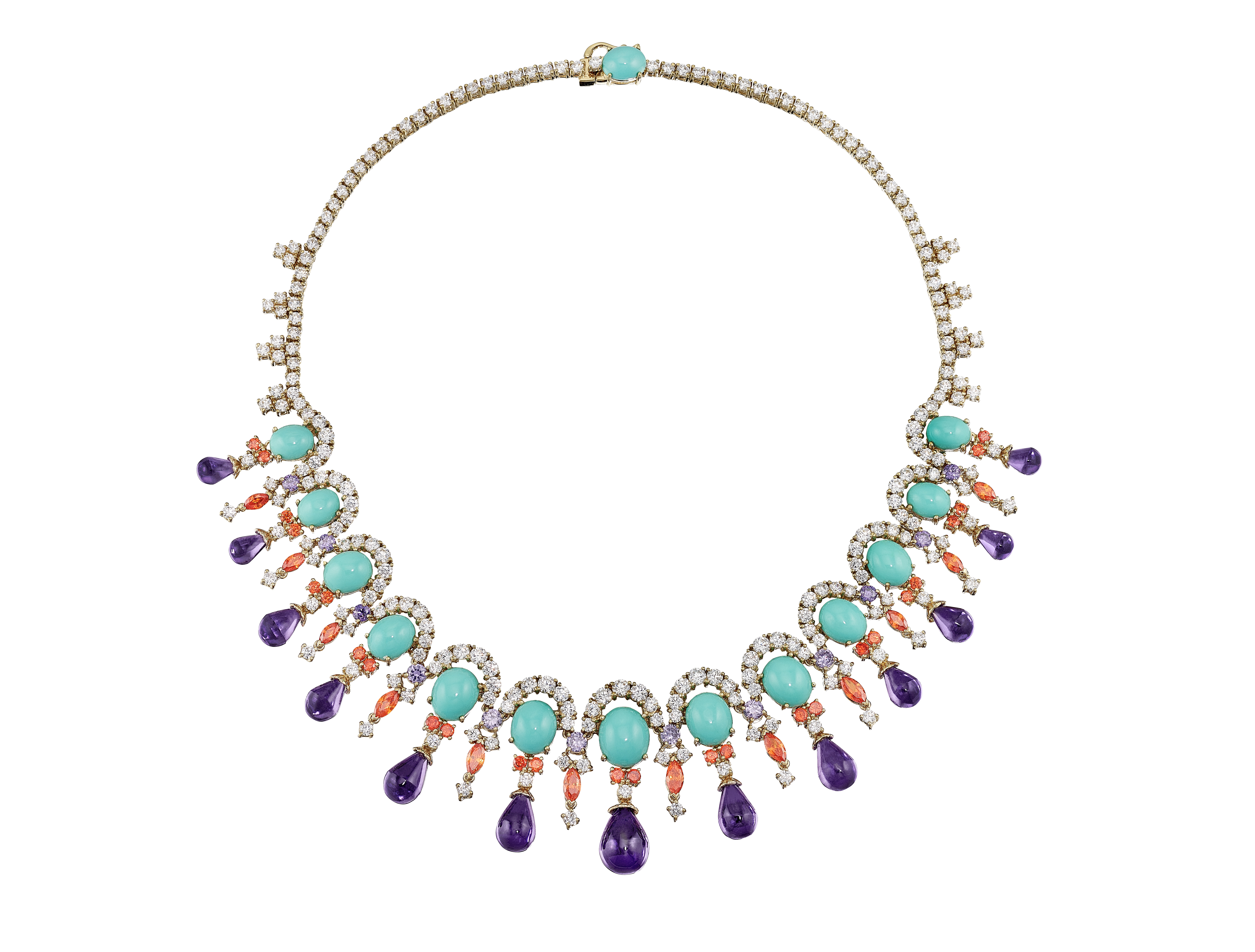 Are there any jewelry designers from the past that you appreciate a lot?
When I was 16 years old I interviewed Royal jeweller Andrew Grima for my school Art project. Andrew and his wife Jojo were kind enough to meet me and my art teacher, Sue Stanway at the Burlington Arcade, where he not only patiently answered all my questions, he showed me trays after trays of his incredible jewels and original sketches.
Andrew famously said that a 60carats diamond should be locked up in a vault, but a 60carats topaz can become a wearable work of art the owner can enjoy daily. He was the first to cast pencil shavings, lichens and even a stamp in red gold; mastering techniques like his signature textured-wire gold. One of my favourite piece by Andrew is his Gin & Tonic objet d'art carved in rock crystal and gold, so fun and utterly modern today.
Although I went on to study and practice architecture followed by fashion design before returning to the RCA to train in goldsmithing and jewellery, it was always this day that I became hooked on fine jewellery as a wide-eyed teenager, and it all came full-circle.
He told me to enter as many competitions as I can at Art College, make things people can enjoy wearing, and don't take it too seriously. I was able to launch my brand on graduation because of 5 competitions that gave me my first workshop at the Goldsmiths Centre, editorial space in Vogue Italia, training at the Gemological Association, a grant and a cabinet space in Selfridges Wonder Room and The Conran Shop. The 60carats topaz modernity and wearability is still what I strive for today. A couple of years ago, I met Jojo and their daughter Francesca again at Masterpiece London and finally collected my first Andrew Grima ring from the 1970s.
What's been the biggest turning point in your career?
The first major celebrity to wear my Jewelry publicly was Lady Gaga at the frank Sinatra tribute concert in New York City, she wore the Pink tourmaline Feather Earrings from our dark Forest collection, and matched her make up and eye shadow to the dazzling iridescent burgundy pink of the gemstones. As a brand with zero paid partnerships and advertising, I found out at the same time as everyone else from social media late at night in London, and literally jumped out of bed and almost gave my husband a heart attack.
Ever since then we have dressed some of the biggest stars in the world and I feel the same excitement every time!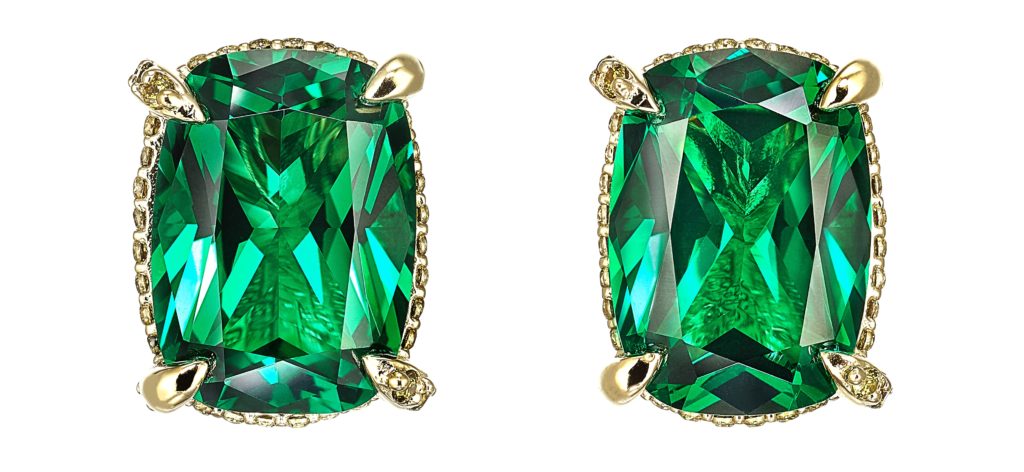 What's the biggest lesson you've learnt in your career?
To be humble, to keep learning and not to take it too seriously. It is about learning from the past, to offer a different perspective in the present, always in mind for a better future.
How do you see the sport of kings, Polo? Have you been to some polo matches?
Yes, I have fortunately been to a number of Polo matches in England and also Argentina, I love that it is such an incredible collaborative sport that relies on the beautiful connection between human and horses.

What is one motto you live by?
As Maya Angelou said, ''Do the best you can until you know better. And when you know better, do better.''
www.anabelachan.com