CONTEMPORARY MODERN PENTHOUSE IN MONACO
The Perfect Union Between Elegance & Luxury
The new Caffe Latte contemporary modern penthouse in Monaco is the perfect definition of elegance and luxury, with a touch of functionality and simplicity. Along the space, neutral and enjoyable tones can be found, in order to deliver harmony and comfort, through a minimalist and unique aesthetic, that will serve as a clear inspiration.
The different house áreas include a spacious entryway, luminous living and dining rooms, a sophisticated kitchen, a luxurious master bedroom, with multiple corners, like the closet, a sweet kids bedroom, well-equipped bathrooms, and at last, but not least, a singular office.
"in today's homes, contemporary interiors are comfortable and welcoming without being cluttered and dark"
A Modern Entryway décor is a brilliant opportunity to surprise house guests. This is the best room in a home to display a great artwork or even luxury furniture. It`s where everything begins.
Comfort, minimalism and space define the present entryway, providing a calm and serene atmosphere, covered with neutral tones.
Will a neutral living room ever go out of style? Never. Despite a colour-free palette, the possibilities for neutral living rooms are endless. Layering, hero furniture pieces, textures… And the new house agrees.
Living Room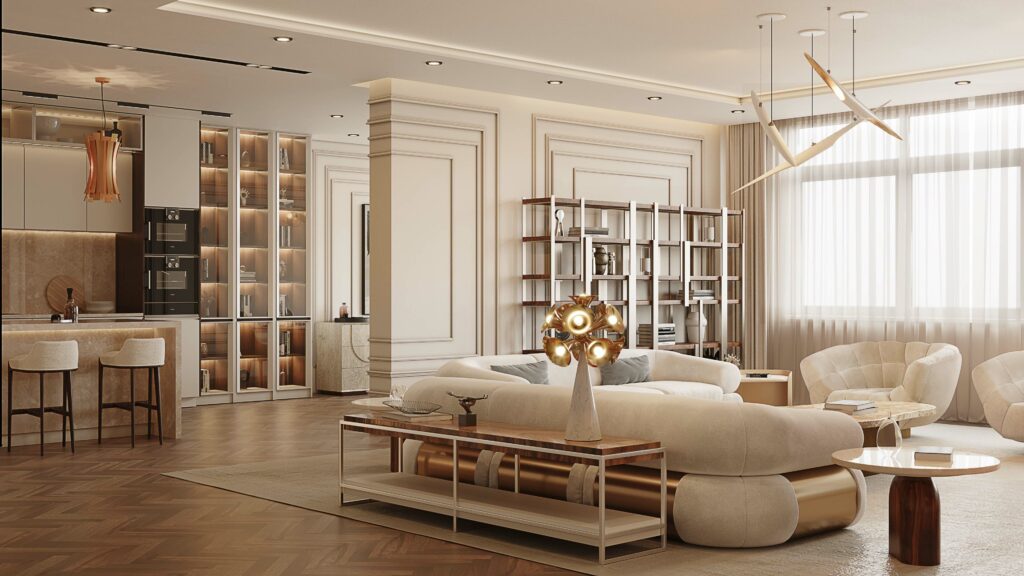 Comfort, modernity and functionality are perfectly balanced here, delivering a warm ambiance.
Dining Room
If it is time to eat and spend time with family and friends, the happiest place will probably be the dining room.
The current one is a open, neutral, practical and cozy area, with everything that is needed. Just seat and enjoy.
Kitchen
The kitchen is probably the most used room in a house, so it must be a enjoyable space to spend time in. And aside from functioning appliances, a lovely kitchen design, like this one, is of utmost importance.
With clean and straight lines, it really captures the attention, due to the incredible decoration and finishes.
Bathroom
Whether if it`s just small upgrades or a full overhaul, a single bathroom can make a big difference in the feel of a home and also in your skin-care routine.
Once again, simplicity, minimalism and functionality were born to be together, in this calm, but beautiful space.
Master Bedroom
The master bedroom in this luxury penthouse in Monaco is the right place to rest and recharge after a long, hectic day, in order to retreat. With a few simple decor upgrades, like the smart furniture choices, neutral colors, chic lighting treatments, and tasteful accessories, it will sound like heaven.
Sitting Room
Accomplishing the master bedroom, there are few elements to highlight, like the cozy sitting room. With a huge sofa and center table, it`s the perfect space to comfortably seat and rest, reading a book or watching a movie.
Closet
Every woman wants a walk-in closet. This kind of design ideas answer to a lot of requires and desires, through the need for a personalized and organized area for all of the clothes and also add-ons to the wish of having one of the most wonderful, beautiful and also large walk-in-wardrobe.
Kids Bedroom
Office
The new Caffe Latte penthouse is inspired by the modern contemporary style of decorating, defined by simplicity, subtle sophistication, deliberate use of texture, and clean lines, where the interiors tend to showcase space rather than things.
By focusing on color, space, and shape, the new penthouse proves to be sleek and fresh. 
All images credit caffelattehome.com
---