Legacy Machine FlyingT, the first of MB&F's three-dimensional horological art pieces dedicated to women unlocks the feminine side of Maximilian Busser & Friends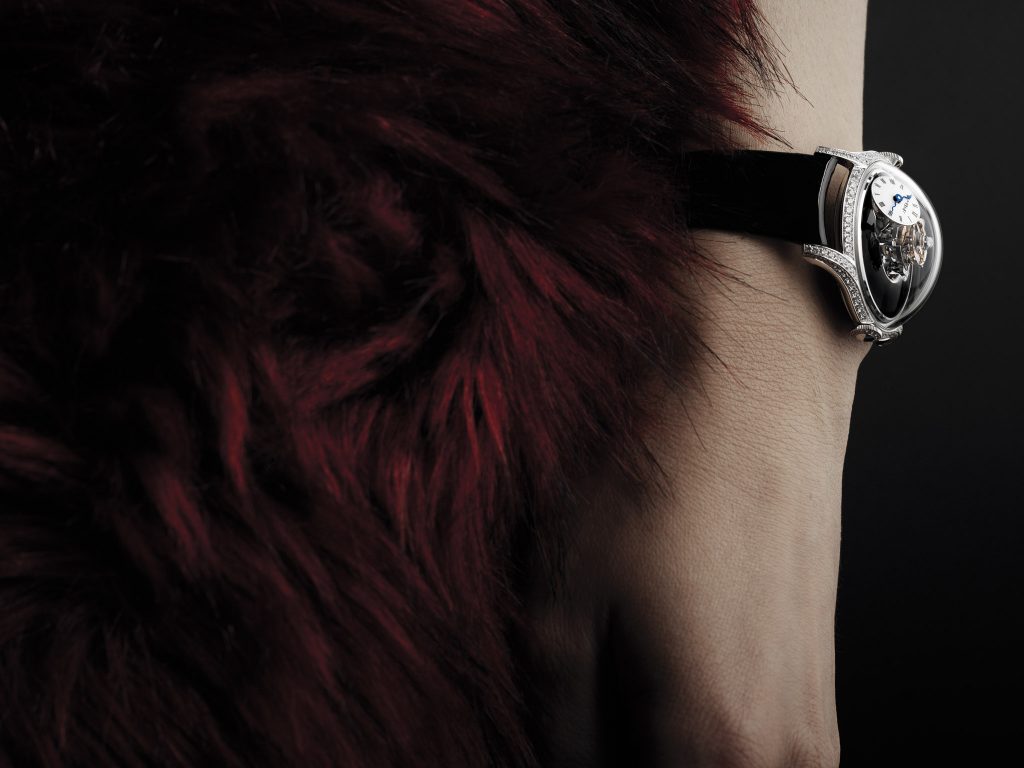 Swiss watch brand MB&F created their first Legacy Machine FlyingT, dedicated for women. Founder Maximilian Büsser visualized the design of his first timepiece for women for four years and for his 14th year of his brand MB&F he wanted to launch a new avenue of horological art exploration.
At this years watch exhibition Baselworld 2019, the swiss brand will present and launch their highlight the Legacy Machine FlyingT.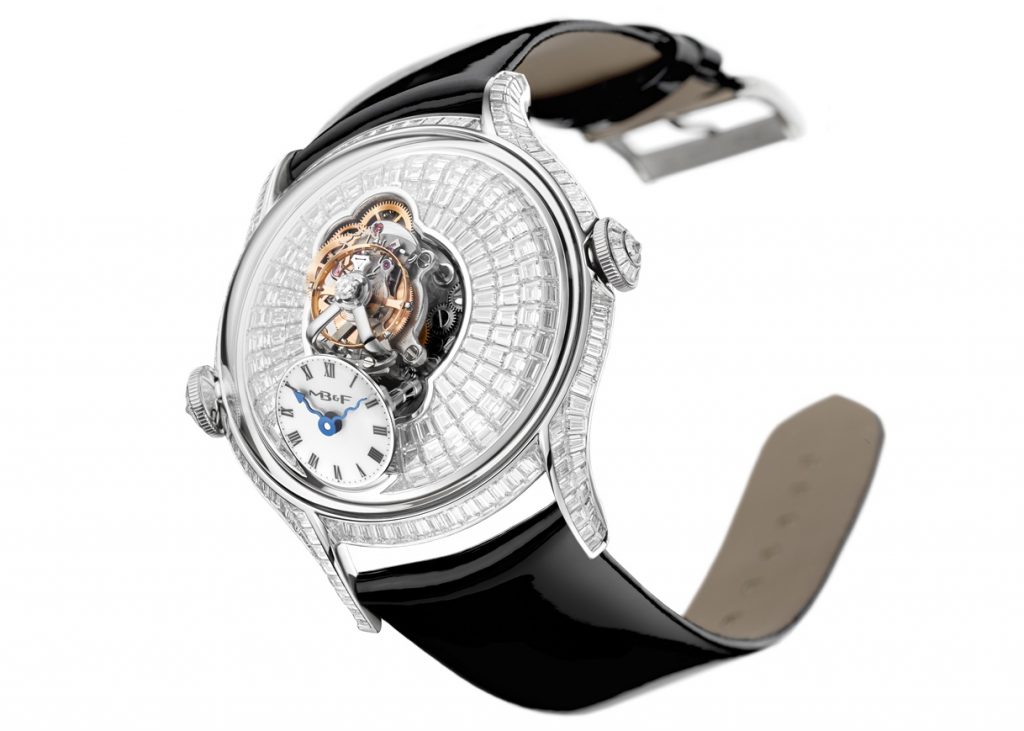 This watch is unique and exclusive but no limited edition and is three-dimensional. It comes in three versions that are all white gold and set with diamonds. The most expensive one is the black lacquer dial baguette-cut diamonds version for $315,000, set with 294 baguette diamonds and 3 diamonds, approx. 8.2ct and has a calf or alligator leather strap.
The second version is the pave brilliant-cut diamonds set with 558 diamonds and approx. 3.5ct, available for $145,000 and the third version black lacquer dial set with 168 brilliant-cut diamonds, approx. 1.7ct is for $115,000 available.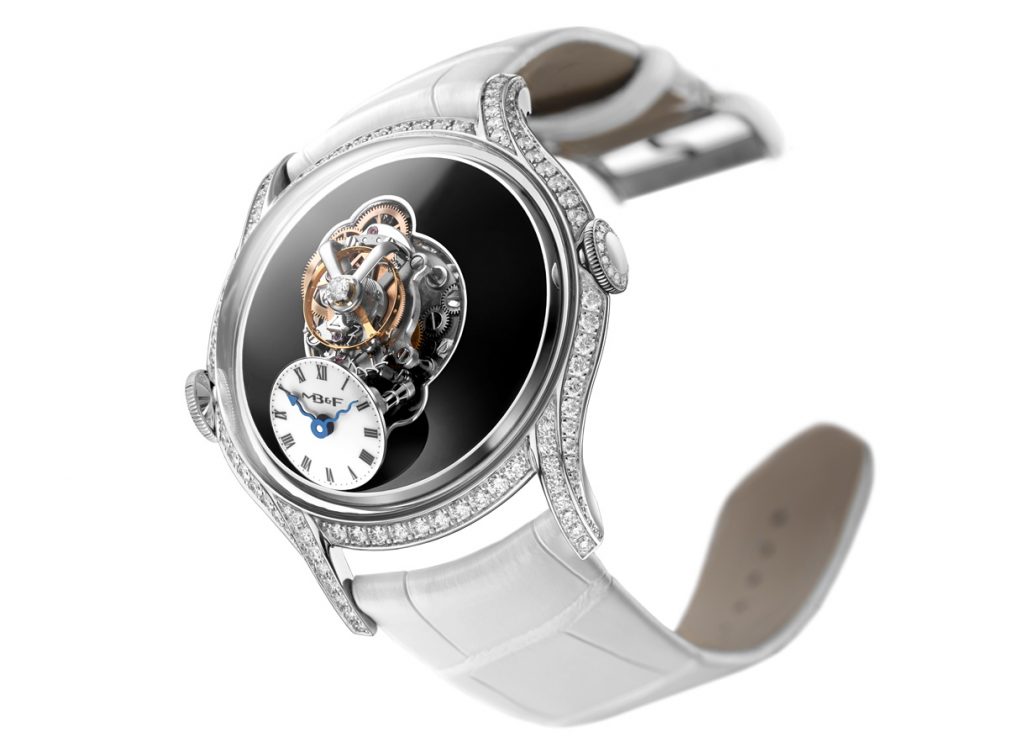 All three editions are crafted in 18-karat white gold and on top of the tourbillon cage a beautiful diamond is placed. The 280 component engine comes with a power reserve of 100 hours, which is the highest the watch brand has ever offered.
On top is sapphire crystal with a dimension of 20mm-high over the hour and minute subdial, at 7 o'clock a white lacquer disc display hours and minutes with an incline of 50°, which allows only the wearer to read the time.
I love the way MB&F takes the classic elements of a watch and add their own unique design and style to it, a watch you can not take your eyes off ladies.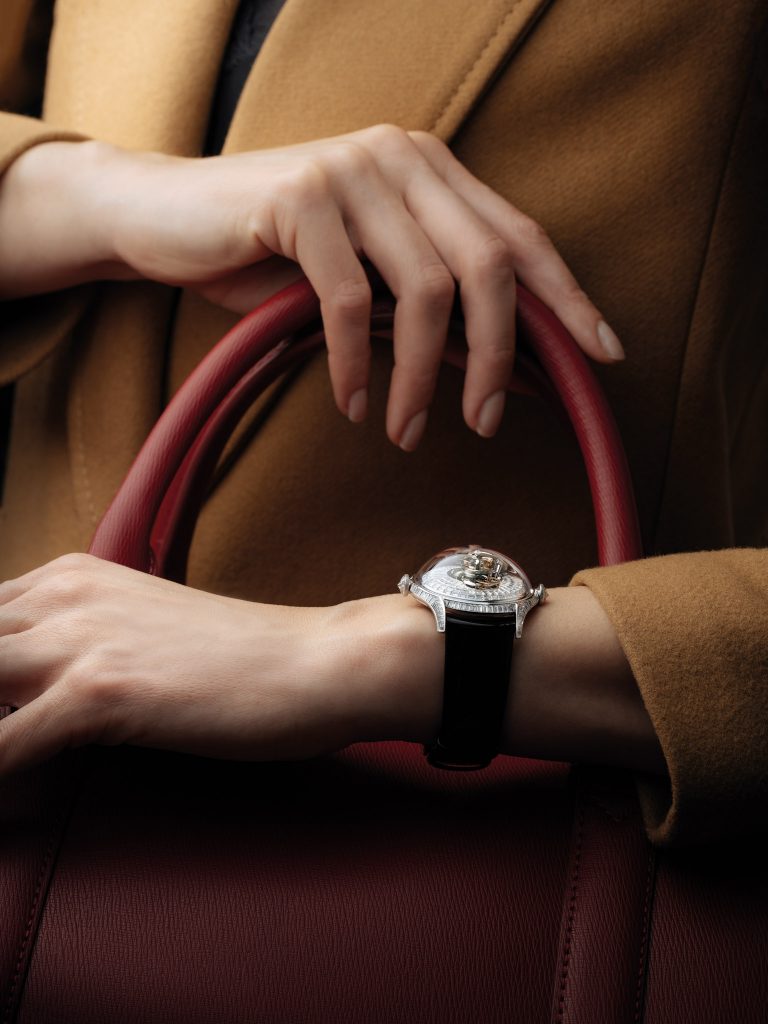 For Maximilian Büsser, it was not easy to design his first watch for women, he had no idea what women like. But his inspiration he got from his family especially from his mother, and he created one of the most amazing and elegant timepieces.
Maximilian Büsser says, "I wanted LM FlyingT to possess the epitome of femininity as reflected by the women in my life, particularly my mother. It had to combine supreme elegance with tremendous vitality. The column-like structure of the flying tourbillon was very important to me as I felt very strongly that women form the pillar of humanity. At the same time, there is another layer of meaning coming in from the sun-shaped rotor, which incorporates the element of life-giving, a source of sustenance which we gravitate towards and around."