Katerina Leroy and Thomas Jirgens Jewelry: Modern Approach of Traditional Luxury
Diamonds, the most popular gemstone, are also the symbol for steadfast love. A girl's best friend finds symbolic expression in the idea of the diamond.
Russian born, currently lives and works in Munich, Katerina Leroy maintains an Instagram following bigger than the population of Iceland or Maldives. Throughout the years, she expanded her career in multiple directions. Among her cooperation partners are Kempinski, Jumeirah, Waldorf Astoria, Palazzo Rhinoceros by Fendi, as well as numerous clothing brands and beauty articles of the premium segment.
For Katerina Leroy, jewels are a true addiction: She is obsessed to accessorize every outfit with exclusive earrings, diamond rings and necklaces. It's quite impossible to keep count of all the new entries in her wonderful jewelry box, but with Thomas Jirgens Jewelry she has redefined sophistication and luxury for herself, always inspired by the personal motto of the German Jewler "Only the best will do!"
"Just because a diamond looks nice and sparkly in a jewelry store doesn't mean it will look the same once you walk out of the store with a purchase. However, in Thomas Jirgens store I am always looking forward to admire a wide range of highest-level products and let myself be enchanted by the variety of accessories. The vast assortment offers an individual accessory for every taste. Every time I come over for searching of my ideal piece of diamond jewelry, I enjoy individual guidance in a relaxed atmosphere in the modern designed store. That's why Thomas exclusively works by appointment in his store located in the heart oft he Munich city. "

Katerina Leroy
For her next special event, Katerina's choose fell on the diamond ring "European Cut" with diamond in platin, in combination with earrings "Golden Smoke" made from smoky quartz and diamonds. Smoky Quartz was known as a Stone of Power. To the ancient Druids, it was sacred and signified the potent dark power of Earth gods and goddesses. In other cultures, it guided souls to the afterlife, served in shamanistic rituals and tribal ceremonies, and was utilized in magic and scrying to connect with spirits of the lower worlds. In the metaphysical world, Smoky Quartz is one of the most efficient crystals for grounding and cleansing. Alone, or naturally blended with other Quartz, it provides some of the finest healing tools available.
GOLDEN SMOKE EARRINGS

EUROPEAN CUT DIAMOND RING
Thomas Jirgens, a gemologist and consultant for diamonds, has been working as a master goldsmith in his Munich store for now 30 years. He is always happy to talk about his passion for diamonds from past eras:
"The stones that were cut during this period, the so-called "European Cuts" impress by their generous facets and their low weight by large diameters. This balanced cut has the ability to make yellowish tinted diamond crystals look whiter than the standardized diamonds of the present day". The European Cuts do not reflect as strong as diamonds, because of the smaller number of facets. This cut fans the incident light into its color spectrum, therefore all the colors of the rainbow disperse like an aura around the stone."

Thomas Jirgens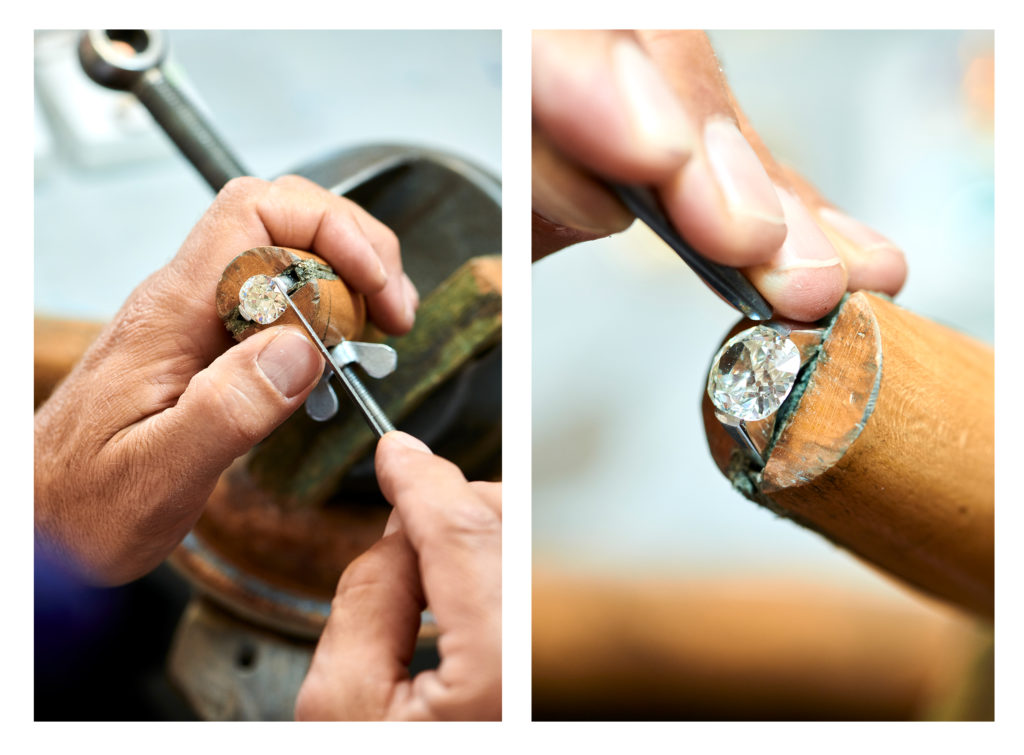 Credits for this Article:
Model: Katerina Leroy @katerina_leroy
Jewelry: Thomas Jirgens @thomasjirgensjuwelenschmiede
Photo: Kosta Potežica @kostapotezica
Make-up and Hair: Anna Velychko @anna_artist_
Stylist: Anna Borisovna @annaaborisovna