Sofitel Legend Metropole Hanoi: More Legend Than a Hotel
There is something uniquely stirring about staying in old historical hotels in Southeast Asia. Boasting colonial grandeur, they project an unquestionable sense of authority. Extrapolate your experience at the Raffles Singapore, the Strand Yangon or the Mandarin Oriental Bangkok to Vietnam and you will find yourself at the Sofitel Legend Metropole Hanoi, an oasis of old-school glamour located in the heart of the city. First opened in 1901, the storied hotel is one of Asia's most elegant colonial landmarks. It is impossible to miss the classical white façade with its green shutters and the vintage Citroen Traction Avant parked at the front entrance. A stunning ode to the bygone era of French Indochina, Sofitel Legend Metropole Hanoi has shown its true staying power. With over a century of memories, this institution of luxury has been a discreet host to visiting royalty, politicians, writers and movie stars.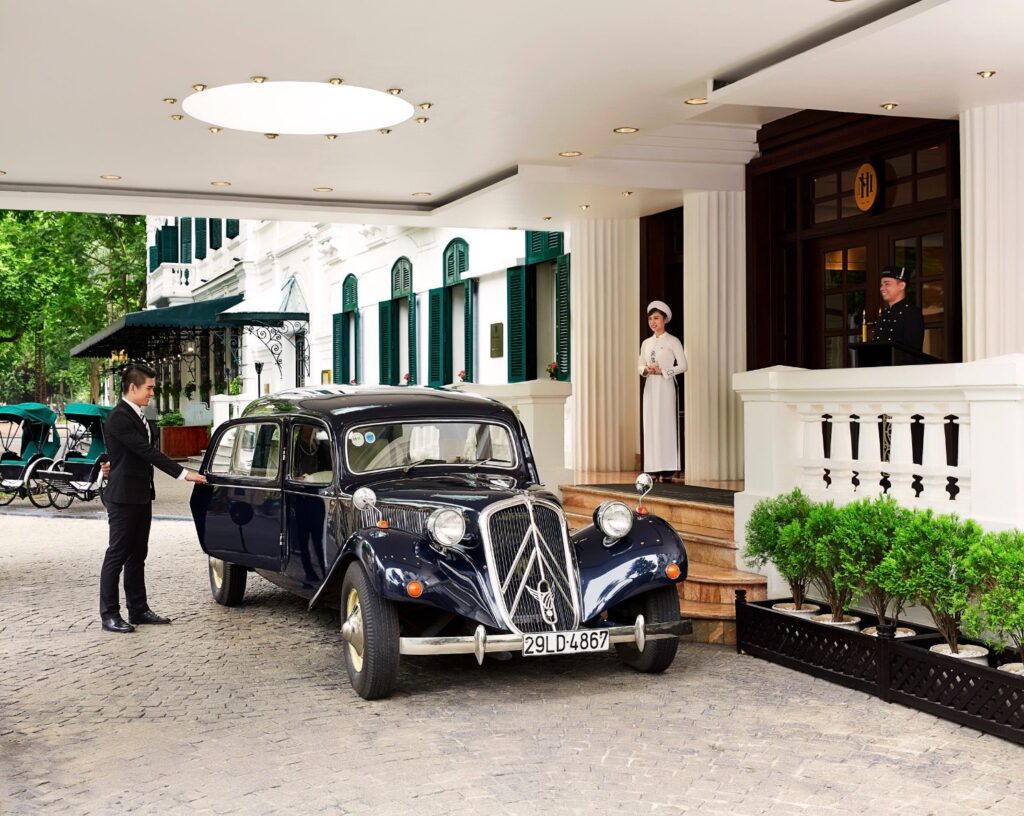 Past Meets Future: angelina
The brainchild of award-winning Karen Hay of the Hong Kong based INdulge studio, angelina's interior mirrors the amazing palette of the Scottish countryside. Upholstered in soothing hints of amber yellow, lime green and dusty blue, the two-story space features a private dining area, exclusive whiskey lounge and sleek floor-to-ceiling bar displaying an impressive collection of liquor brands. The Celtic theme continues in opulent hand-printed Timorous Beasties wallpaper, designed and produced in Glasgow, velvet wingback chairs and cosy infrared fireplaces creating an ambiance of intimacy during the chilly winter months. Angelina takes its whisky seriously, with over 200 varieties on offer you will be able to try anything from artful blends to rare aged single malts. The sophisticated lounge bar is surrounded by individually lit timber cases of privately owned bottles. Decorative yet functional, it serves the best selection of whisky in all of Vietnam.  
A regular host of prestigious cocktail competitions like World Class Vietnam and Havana Club Hanoi, angelina is the alma mater of the nation's most celebrated mixologists. Cocktail geeks should head straight to the glowing U-shaped bar where the artistic team of bartenders delivers a refined exercise in alchemy. If creativity is the question, angelina's new cocktail menu is the answer. Launched last year, it shook up Hanoi's cocktail scene with 10 artisan blends crafted to different types of personalities. Socialite, Nerd or Narcissist, which one are you? What can be a more fun way to get to know each other on a first date!
Whether you are coming for a dram of vintage whiskey, perfectly shaken classics or an out-of-box experience, make sure you are hungry too. An elaborate menu, curated by angelina's Head Chef Thien Nguyen, is an updated take on classic European and New World cuisine. Enthralling diners with elegant presentations, it honours seasonal ingredients supplied by the best local producers. Treat yourself to a glass of champagne paired with freshly chucked French oysters or a bottle of wine perfectly matched with a 12-hour wagyu short rib garnished with truffle mashed potatoes, zucchini and pine nuts. At angelina things can be as simple or complex as you want them to be.
Sofitel Legend Metropole Hanoi likes to keep its guests on their toes by bringing in Michelin chefs, mixologists, entertainers and DJs from across the globe. The heart of the Grand Dame is always beating to the rhythm of the old city, setting its own tempo which varies in mood and spirit from the historical Le Beaulieu to the tranquil Bamboo Bar and elegant La Terrasse du Metropole inspired by Parisian al fresco brasseries. Having breakfast or high tea at 15 Ngo Quyen carries the promise of sweet memories about your time in Hanoi. More legend than a hotel, the hottest address in town is a destination in its own right.