The story of An Lam Retreats began on a quiet bank of the Saigon River when the chairman of a local construction company discovered a pristine plot of land not far from downtown Ho Chi Minh City. Originally intended as a private home, it soon became apparent that this property was destined for a far greater fate!
An embodiment of the owner's passions and personal values wrapped in the lush embrace of a jungle, An Lam Retreats Saigon River opened its doors to discerning travellers from all over the world almost a decade ago. The retreat lives up to its name, which in Vietnamese translates to "place of peace", by providing a quick escape into an enchanting oasis of unspoiled nature studded with banyan trees, coconut palms, and bird of paradise flowers.
There is something about water arrivals! A 25-minute speedboat ride from the city center will bring you straight to An Lam Retreats Saigon River's welcoming pier. Conceptualized and built by Tran Duc Homes, the retreat encompasses 35 elegantly appointed villas and suites decked out with custom-made wooden furniture, local art and traditional ceramics. Capture the energy of the blooming nature while lounging by your private pool or enjoying a cup of fragrant green tea on a cosy veranda and let a team of dedicated butlers take care of the rest.
Waterfront Sen, the retreat's dining hub, creates one of the best spots to tune into the river's serene and hypnotic rhythm. The richness of this setting only lends to those secluded vibes as tables are filled with gourmet plates created to challenge and expand your taste palette. An elaborate menu, curated by the retreat's Head Chef Nguyen Phuoc Hung, runs the gamut from warm Japanese scallop salad and Italian black ink seafood pasta to Australian black angus beef tenderloin served with creamy truffle mashed potatoes and tangy tomato chutney.
If you are not familiar with local flavours yet, the Yin-Yang platter laid-out with fresh and deep-fried spring rolls, grilled beef wrapped in betel leaves, seafood green mango salad and prawn crackers, makes a perfect first foray into the vibrant culinary scene of Vietnam. Energize your morning with a bountiful breakfast spread and perhaps a glass of do-it-yourself pineapple white wine spritzer and make sure to book a scenic table for dinner to catch a glimpse of the busy river life during sunset.
Whether it is your birthday, anniversary, honeymoon, or you just want to celebrate being on vacation, elevate your stay with curated private experiences: wake up to decadent breakfast drifting in wait in your pool, treat your family to a BBQ by the deck or surprise your loved one with an intimate candlelit dinner at the treehouse.
The real piece de resistance, though, is An Lam Retreats Saigon River's newly launched speakeasy-inspired bar which can only be accessed via a hidden tropical pathway. Promising all the class you would expect from a five-star resort, this indoor-outdoor drinking establishment, stylishly crafted with brass details and upholstered in exotic textiles, boasts panoramic views of the surrounding jungle and mellow Saigon River. If creativity is the question, the retreat's updated drink list is the answer! Taking mixology up a notch, the artistic team of in-house bartenders is shaking up Vietnam's cocktail scene with mood enhancing blends that evoke both Vietnamese heritage and the latest global trends. Euphoric, Stress Reliever or Aphrodisiac? What a fun way to connect to your feelings! Whether you are coming for a dram of whiskey, perfectly shaken classics or an out-of-box experience, make sure you are hungry too.
An impressive array of locally grown produce calls for a personalized culinary adventure – slice, dice and cook your way through your stay during a hands-on cooking class hosted by the most charming Miss Nhi. Set at the heart of the retreat's organic garden, an open-air kitchen unveils the inner workings of Vietnamese cuisine with 3 different locally themed menus. Be it hearty sweet and sour prawn soup or tender and juicy stewed pork, just roll up your sleeves and get to the essence of local fare. Which would you rather take home: a few souvenirs or the ability to replicate that delicious food you enjoyed on the deck of a quaint restaurant overlooking Saigon River?
Hidden amid meditative scenery, Jungle Spa is your invitation to experience a slower flow of life. Uplift your holiday with a 90-minute Serenity Lavender body treatment or surprise your loved one with a romantic Cleopatra's Secret bathing ritual for two. Adopting a tailored approach to wellness, An Lam Retreats Saigon River's attentive and knowledgeable therapists take advantage of all-natural beauty potions formulated with hand-crushed herbs, roots and spices as well as clay and organic cold pressed coconut oil. A yoga class in the morning followed by some sauna relaxation and a refreshing dip in the resort's teal-green pool is just the perfect recipe to get over jet-lag and jump start your Vietnamese adventure.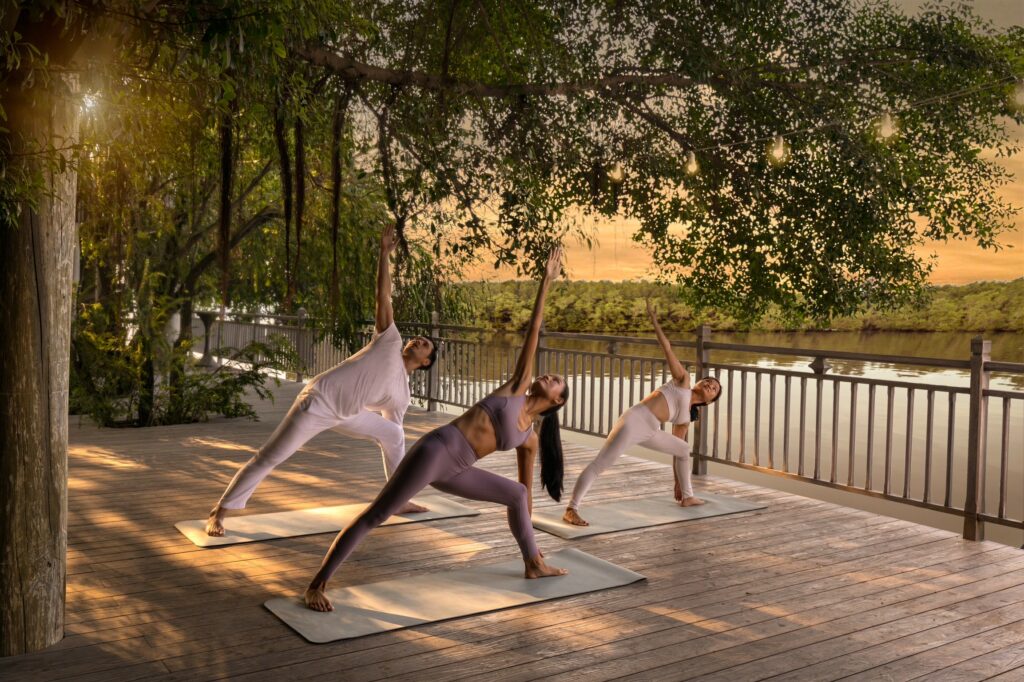 Whether your pastime of choice is lounging by a pool, working out in a state-of-the-art gym or picking up a new skill there is a multitude of recreational activities on offer. Discover the art of mixology with a resident bartender, craft your own eco-friendly candle or try your hand at fishing. Should your preference be to while away your day in a more leisurely manner, there is a tranquil outdoor library facing the river and a romantic outdoor cinema under the stars. Guests with kids can spend precious time alone while younger travellers are kept busy with engaging make-and-take workshops led by local artisans.
If you manage to tear yourself away from the retreat's magnetic pull, ask your butler to arrange for a private sunset cruise with a bottle of sparkling wine and a generous array of locally inspired canapes coupled with spectacular views of the city's sparkling skyline. Do you wish to venture further? An Lam Retreats Saigon River is perfectly positioned to explore buzzing Ho Chi Minh City from the back of a vintage Vespa, test your shooting skills at Cu Chi Tunnels or spend a quiet afternoon gliding down the Mekong Delta.
An antidote to modern hectic life, An Lam Retreats Saigon River makes a perfect first introduction to Vietnam's rich culture and history. And if you are not ready to say good-bye by the end of your stay, extend your holiday to the resort's sister property, An Lam Retreats Ninh Van Bay which is located just off the coast of Nha Trang City.