Loved-up couples have been told the seven best locations around the world which are perfect for saying 'yes!'. These destinations are both secluded and romantic – making a stunning spot for a memorable idyllic proposal.
These secluded, romantic spots around the world are perfect for a proposal
Loved-up Brits are being told of seven secluded and romantic spots across the globe that are perfect for popping the all important question.
Photography experts at ParrotPrint.com have named seven of the most secluded spots across the world where it's perfect for loved-up couples to say 'yes'!
Travelling on a romantic getaway to the Path of Love in Italy or the stunning River of Five Colours in Colombia makes for a propose worthy trip totally in private.
The lush island of Mljet in Croatia is covered with hidden beach coves, and the Grand Prismatic Spring in the USA is a colourful natural phenomenon and are both beautifully romantic and secluded destinations.
Although they may be a little less private, city breaks in captivating locations – like Bergen in Norway and the cherry-blossom filled Tokyo – both have spots that are tucked away off the beaten track and away from the hustle and bustle, ideal for popping the question.
Matt Dahan from ParrotPrint.com said: "We are really seeing a move away from proposals at some of the most cliche spots – like the Eiffel Tower and on top of the Empire State Building.
"Instead, couples are wanting to get engaged somewhere which still has a stunning backdrop, but is a little more private and less common.
"There are so many amazing destinations that are certainly propose-worthy around the world, but we've named seven of the most beautiful yet secluded natural wonders, perfect for loved-up couples.
"Of course, the most important thing about getting engaged is to be with your loved one, but having a beautiful backdrop and a place which will hold such a special memory for you both is key as well."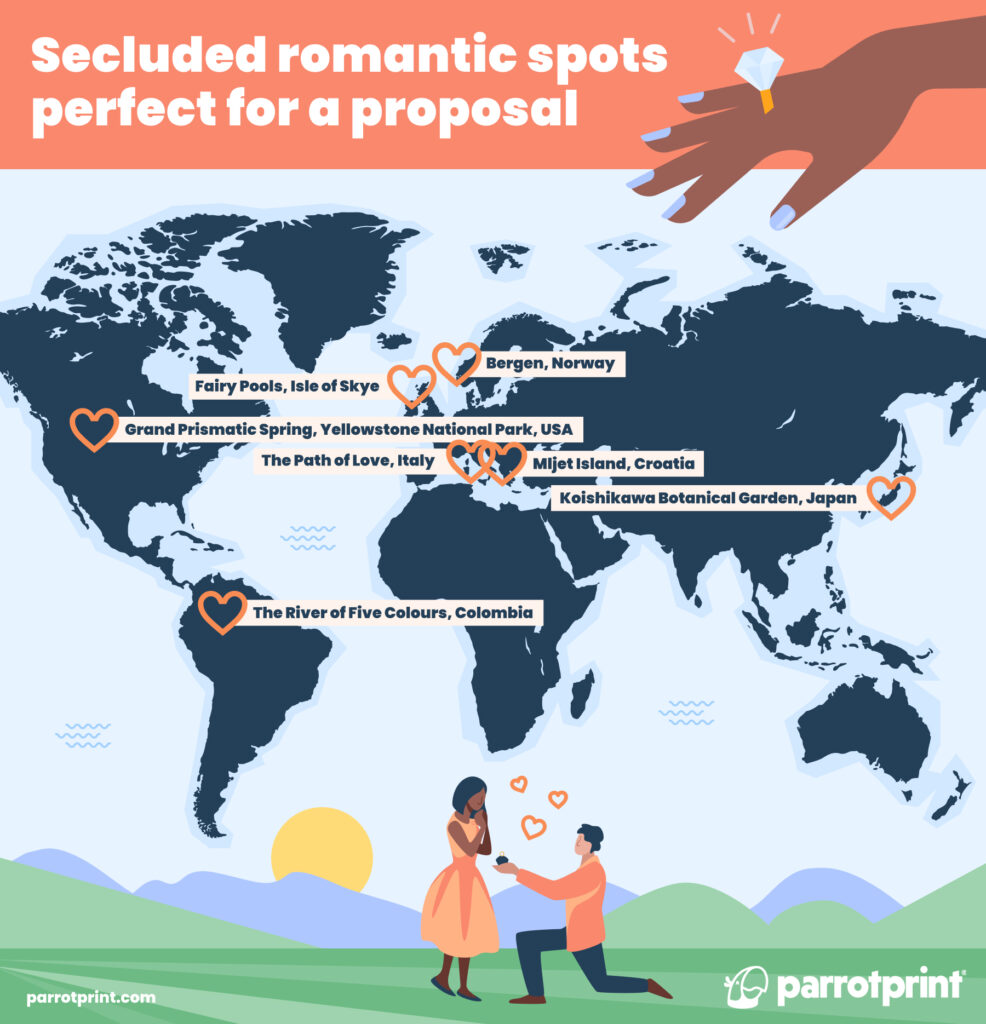 Seven secluded locations to say 'yes!':
Mljet Island, Croatia
The most underrated island in Croatia, Mljet island is a 1.5 hour boat journey away from Dubrovnik. Mljet is covered in lush greenery and crystal blue seas, and the hidden beach coves are perfect for a romantic proposal isolated from the rest of the world.
Bergen, Norway
Bergen is the second-largest city in Norway and is packed full of culture, art, and stunning views of nearby fjords. Colourful houses are scattered all over the city, which has a wonderful small-town charm. There are plenty of beautiful backdrops perfect for a proposal in this vibrant city – like on a day trip visiting the fjords or tucked away in a delicious Norwegian restaurant. There is even a chance to catch the Northern Lights in Bergen.
Fairy Pools, Isle of Skye
This remote Scottish destination is ideal for a romantic proposal for those couples who love the outdoors. The Fairy Pools are a natural waterfall phenomenon with wild swimmers braving the cold in the magical aqua blue pools.
The Path of Love, Italy
Nestled between two traditional Italian villages, the Path of Love is a dreamy, underrated spot for a proposal. Just as the name suggests, legend has it that this romantic path was a meeting place for lovers from both villages. The one kilometre walk is filled with breathtaking views of the rugged, Italian landscape.
Koishikawa Botanical Garden, Japan
This cherry blossom passage in Japan is a stunning romantic location to admire the thousands of beautiful pink trees. Although the garden is in the heart of Tokyo, couples will find some peace and quiet in this romantic setting, strolling along hand in hand.
The River of Five Colours, Colombia
For a few months of the year, the Caño Cristales river in Colombia turns a wonderful, romantic red colour due to the plants on the river bed. Couples can take a dip in this beautiful natural phenomenon and admire the stunning landscape, making it a perfect place to pop the question.
Grand Prismatic Spring, Yellowstone National Park, USA
This large, majestic natural hot spring in the centre of Wyoming's famous Yellowstone National Park is a picture perfect backdrop for popping the question. The piercing blue spring is surrounded by red, orange and yellow coloured rings due to the bacteria growing in the hot conditions creating a wonderful rainbow effect.