Text by Laura Pearson Smith
Brighten up your home and lift your mood with the perfect luxury candle
It's March and spring is on the horizon, meaning we can enjoy lighter, brighter days and start feeling more optimistic about the future. Since the pandemic began, scent and fragrance has been part of my life like never before. How my home and I am fragranced has become something that directly affects my mood.
Throughout the winter I've been enjoying deep, woody, oud-y scents that represent everything cosy and warm. I've spent longer in my home that I ever have before and I've burnt through a lot of candles. Now that spring is inching closer, I've started to include more floral scents into the mix. Still with that cosy, deep undertone since we are still having to hunker down in the UK due to the current lockdown situation.
Every month I'm going to be sharing 5 luxury candles that are perfect for that time of year. Let's discover March's…
Lalique' Noir Premiere Plume Blanche 1901 – £62 from Lalique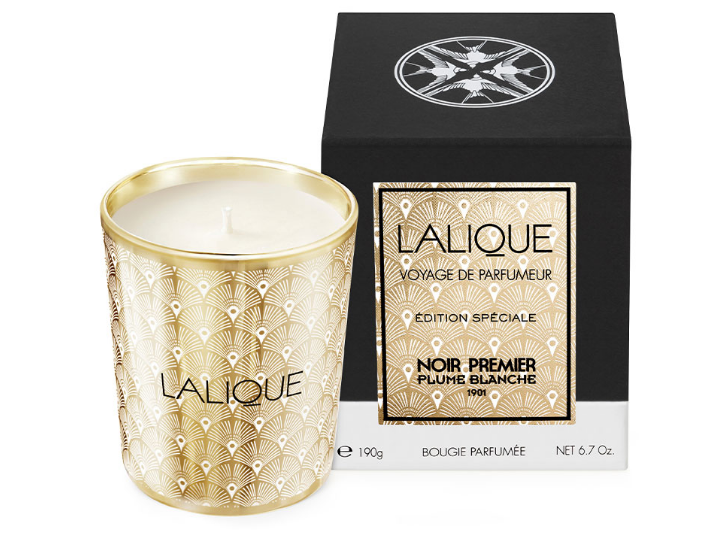 This scent and luxury candle jar design is inspired by the peacock, an Art Nouveau motif that's very prevalent in René Lalique's work. The Noir Premiere fragrance collection celebrates key moments in the design history of the Lalique' brand – designs that were often influenced by scent themselves.
Plume Blanche 1901 is a soft white and clean floral musk. Silver almond tree leaves, white heliotrope and jasmine on a bed of white musk and pure white cedarwood. The cosy aspect comes from the enveloping tonka bean. Cleanse your home and your mind for spring with this heavenly scent.
D.S. & Durga Wild Brooklyn Lavender – $65 from D.S. Durga
D.S. & Durga is a luxury minimalist chic US brand from New York. They believe that the power of scent equals those of sight and sound. Their candles are designed to be a keyhole into another realm – something we all need right now. All of their candles are linked to a Spotify playlist to help you to connect all of your senses and transport yourself to another place.
The Wild Brooklyn Lavender scent is, of course, based on the Brooklyn with which it is named. It celebrates the vibrant and wild mixture of people in a city that is alive and jumping with life 24-7. It's the place where anything is possible and people can be who they want to be. Top notes of spike lavender and wayside herbs mingle with a heart of vetiver and lavender, and a base of suede and asphalt. It's stimulating and edgy, but it's safe too.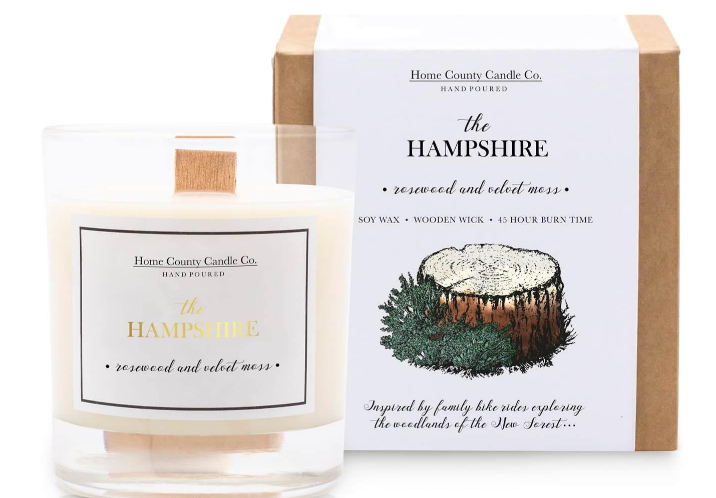 We can't travel at the moment and fragrance is one of our only opportunities to escape where we are and travel. This beautiful niche brand creates candles based on UK staycations. This fragrance embodies the county of Hampshire. Imagine the rain soaked woodlands of the New Forest with this scent that has citrus, pear and armoise top notes, a heart of amber, english lavender and jasmine, on a base of sandalwood, musk and vanilla. Dream of staycations to come as you let this scent carry your mind to future adventures.
Cutch Company The Lover's Embrace – £18 from Cutch Company
Cutch is beautiful artistic brand that was born out of lockdown and inspired by our lack of person-to-person contact. This brand wanted to take essential oils and fragrances to create candles envelope your senses and take you somewhere safe and familiar. The Lover's Embrace candle box carries an original Cutch Embrace Collection illustration, representing the warmth and connection that comes with romantic love.
This fragrance is deep, moody and romantic. There's a head of grapefruit, a heart of Geranium Rose, Elizabethan Rose and jasmine, and a base of deep, dark amber, oud, vetiver and patchouli. Let this scent soothe your night's alone, warm your heart and remind you of what's to come when this is all over.
Robinson & Hyde Midnight Rose Oud – £15 from Robinson & Hyde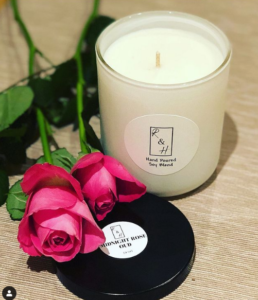 If you are a fan of the cult Jo Malone fragrance Velvet Rose & Oud, you'll love this as it has similar vibes. This small-batch, niche fragrance company that have strong environmentally-friendly practices. Their production aims to have minimum effect on the environment, and they are Vegan friendly and recyclable too.
Midnight Rose Oud has base notes of midnight rose, mingled with floral tuberose then wrapped in smoky oud wood, musk and amber. A deep, floral fragrance that is slightly sweet and is very addictive. It's a moody rose – dark but with the promise of something lighter and sweeter on the horizon.
You can see more of what I'm loving on my Instagram at @lpearsonsmith
This post may contain affiliate links. Learn more
---