Arnaud Zannier's Namibian adventure started to unfold with Angelina Jolie renting his entire resort in Cambodia while directing the movie "First They Killed My Father". Impressed with the ethos of the brand, the actress shared a story of Naankuse Foundation, a conservation charity committed to preserve the landscapes, cultures and diverse wildlife of Namibia. This unexpected encounter between a visionary hotelier and international celebrity renowned for her humanitarian efforts paved the way for Zannier Reserve, a transitional land close to Naankuse Foundation where rescued animals could be safely reintroduced into the wild.
In the heart of the 7,500-hectare nature reserve lies Zannier Hotels Omaanda, a collection of 10 thatch and clay huts inspired by traditional Owambo architecture. Teeming with wildlife, the lodge offers its guests a unique opportunity to observe classic African wilderness in discrete and exceptional luxury. The partnership with the Naankuse Foundation ensures privileged access to conservation projects for elephants, rhinos and big cats. Grab front row seats to nature's most spectacular shows!
Just a stone's throw from a watering hole frequented by wildlife, Zannier Hotels Omaanda brings the game viewing to you. Experience nature at its wildest: have breakfast with a mischievous mob of resident meerkats, track a rhino or a herd of elephants going for a swim, spy on a leopard sleeping peacefully on a branch of a Jackalberry tree or grab your binoculars and simply enjoy the nocturnal beauty of the savannah, all with your own private guide.
Fascinated by the singular beauty of Namibia, Arnaud Zannier realised that one property was simply not enough to do justice to this beautifully diverse country. Staying true to the stripped-back approach to luxury, the brands fourth outpost is built on a spill of giant boulders amid the soaring dunes of the Namib Desert. There is nowhere else on earth quite like Zannier Hotels Sonop, if you are looking for an exclusive and intimate African experience the lodge ticks all the boxes. Inviting you to step back in time and get a taste of the grand safaris of yesteryear, its opulent residential tents evoke the era of intrepid explorers from the early 20th century. The interior design exhibits a potpourri of 550 antiques hand-picked at flea markets and dealers in England: binoculars, maps, mirrors, magnifying glasses, carpets, leather trunks, mahogany chairs and picture frames, as well as unique historical objects such as 19th century walking sticks and vestige Pith helmets. Chiming with the landscape, the earthy exteriors of Zannier Hotels Sonop almost looks like a mirage on a boundless ephemeral landscape of the world's oldest desert. As night falls, the sky lights up with a myriad of stars creating the unique opportunity to peer into the vast unknown through the numerous telescopes available at the lodge.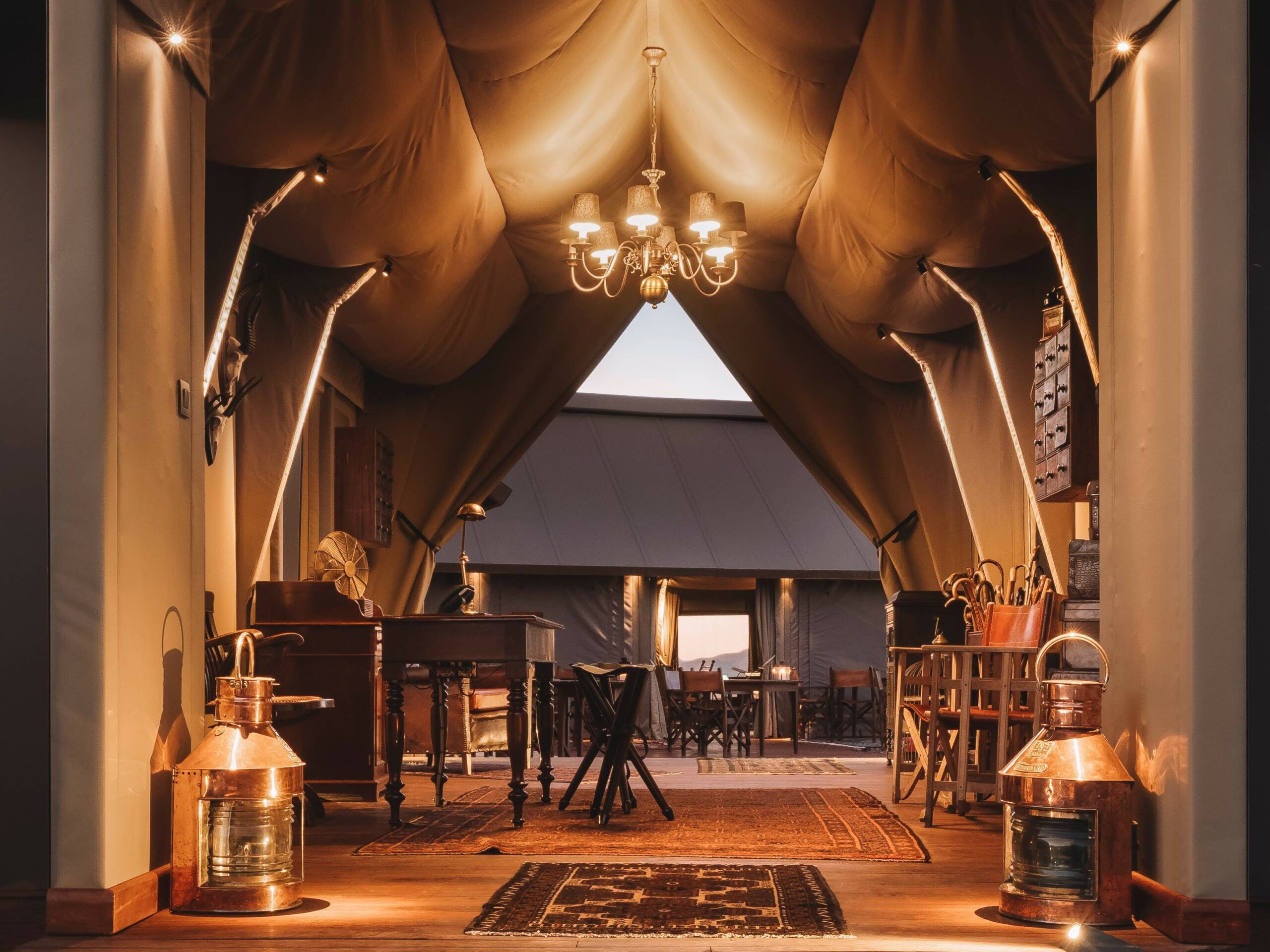 A conservation success story and dreamt up fantasy, the two properties in Namibia are often booked into one trip. With its own airstrip, Zannier Hotels Sonop is just an 80-minute flight to Windhoek or a 5-hour scenic drive straight to its sister lodge. Both hotels offer unforgettable gastronomic experiences allowing you to discover the diverse culture of Namibia through its hearty cuisine. From open-air Ambo Delights by Zannier Hotels Omaanda to the silver service extravaganza at Zannier Hotels Sonop, the rotating menus rely on seasonal farm-to-table produce and an excellent biodynamic wine list made up of labels from reputable South African wine regions, as well as from Domaines Roger Zannier.
Awaken your senses with a swim in a heated infinity pool or get spoilt by soulful spa rituals inspired by ancient Namibian beliefs and empowered by locally grown roots, herbs and spices. An exhilarating desert experience calls for the ultimate post-safari relaxation, try Zannier Hotels Sonops's signature ritual "Touch of Namibian Myrrh", a soothing insight into the wisdom of nomadic Himba tribes.
While Zannier Hotels Omanda is a perfect place to encounter nature at its wildest and swap stories of the day's adventures by the enchanting African boma, Zannier Hotels Sonop shows a different angle to Namibia by offering a complimentary range of engaging activities from e-mountain biking and scenic drives to astronomy experience and an open-air cinema. Whether you are spending your day in a safari vehicle in search of wildlife or enjoying some well-deserved downtime by the pool, you can be sure that a sighting is never far off.