We had the pleasure to talk to Heba Alenezi a young and dynamic entrepreneur, established in Kuwait, in 2009 and is the result of best brands in Kuwait and Middle East.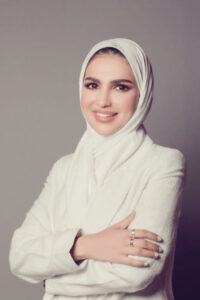 What drew you to a fashion designer and inspired you to start with your own brand?
As a Marketing professional, I always had an eye for detail and an extreme passion for fashion long before I started my career. I started my own brand as I noticed a gap in the market, especially for Couture and Bridal wear for Kuwaiti women, designed BY a Kuwaiti woman. I felt our country needed that personal touch, one Kuwaiti designing for another. That is where my exciting journey began ! I attended many fashion courses and continue to do so as and when I believe I need to expand my skill set and keep up with the ever evolving industry.
How can you characterize your style?
A huge compliment for me is when people notice designs at weddings or events as mine ! It shows me that my architectural elements to my designs are evident and moreso as the years go on. I am also exceedingly passionate about ensuring the client is happy and that I follow her guidelines as at the end of the day, bespoke one off designs are from the heart. I want my clients to wear their Heba Al Enezi couture and radiate happiness.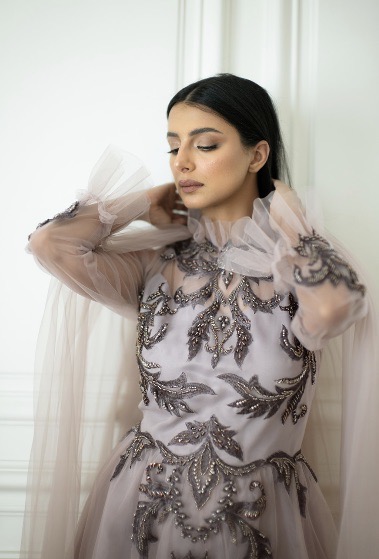 Where do you work on your designs and projects?
I am proudly Kuwaiti and everything is hand crafted in our Atelier in Kuwait. I have an amazingly loyal and supportive workforce who understand my style and they are the backbone of my designs. They help me bring my ideas to reality.
What are some of the materials/fabrics you use?
We use many various crystals and stones as well as intricate beadwork for Bridal Gowns. Silk, Tulle, Taffeta, Organza and Satins are just a few of the fabrics I love to work with for my Couture Line. Now I have launched a RTW and Bespoke Workplace lines, I am enjoying working with many different fabrics also.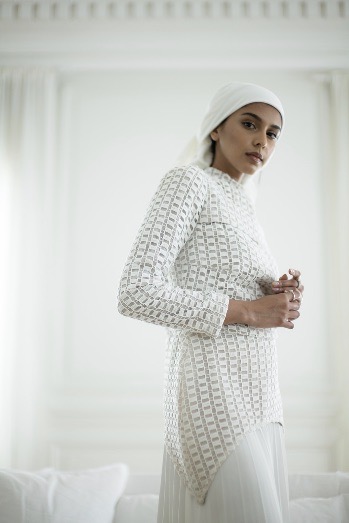 Are there any new exciting projects that you are currently working on that you would like to share with our readers?
Yes ! The past few years have been rather difficult with the pandemic. However during these trying times I noticed that we had a lack of RTW Collections in Kuwait and the GCC. I also noticed that many companies are not consistent in the designs of their uniforms for staff, therefore two of my proudest projects during these past few years have been the launch of my other two lines. The successful launch and designing of collections for @juzannia and @ollar.official would be the biggest highlights of 2022. We cannot wait to share the success story in 2023 with the launch of new collections and placements in stores and online within, and outside of the GCC.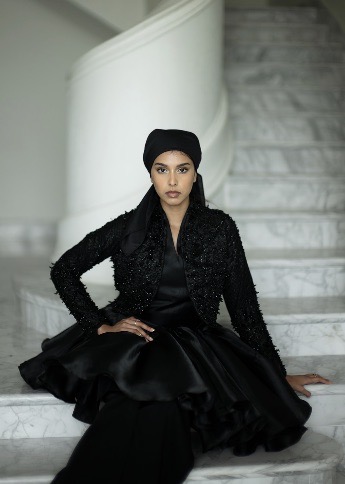 What's the biggest lesson you've learnt in your career?
To NEVER GIVE UP ! The past two years have been exceedingly trying but I have pushed on and on ! I think this mindset has greatly helped me in establishing two new lines. Never give up on dreams!
How do you see the sport of kings, Polo? Have you been to some polo matches?
As an Arab woman I have grown up with horses and am very involved in the equestrian lifestyle in Kuwait.  We sadly don't have Polo Matches in Kuwait but it would be a dream of mine to design and dress a team with my label Ollar! Ollar was the brainchild of consistent frustration of seeing many companies have high end brands such as perfumes but the uniforms of their employees did not reflect this image. Ollar can customize collections for airlines, perfumes, private hospitals, dental clinics – the list is endless !  Maybe we can add Polo Teams onto our list of clients !
What is one motto you life by?
Life is short – buy the dress ! Just make sure it is one from Heba Al Enezi !
Instagram accounts: 
@hebaalenezi.official
@juzannia
@ollar.official
For any media or buyer enquiries @pr_passion
Photo credit: Bedour Alawadhi