When it comes to misting, RÉDUIT is as boujee as you can get, but with good reason. It's a piece of high-tech wizardry that's more beneficial to your skin and to the planet, compared to conventional skincare mist spray bottles or hair conditioning mists.
RÉDUIT is a hand-held misting device. You put in their Smartpods (there are several with different skincare or haircare purposes) and it delivers exactly the right dose, in particles so fine that it penetrates deeper into your skin than any other mist can. Each pods contains 40 applications, so it's much kinder to the environment too, as you are using and disposing of less plastic.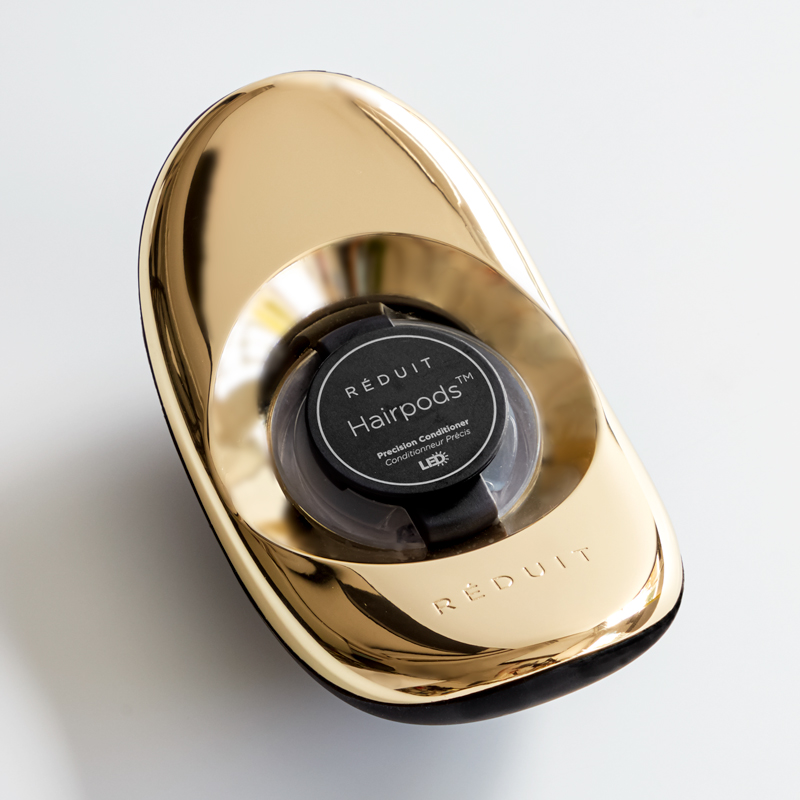 It might be hard to imagine how to justify adding a £179+ device into your already very opulent beauty routine; but they deliver super-concentrated treatments and the pods are actually very affordable at less than £1 per treatment. One 5ml Smartpod, that delivers 40 applications, is equivalent to 50mls of skincare product or 200mls of haircare product. So it will result in you spending less on certain of your serums and mists as time goes on. Friendly to your purse and to the planet.
I spoke to CEO of RÉDUIT, Paul Peros, to get the lowdown on why this would make a great addition to your skincare or haircare routine.
What do RÉDUIT devices do? Why are they beneficial to your skin?
Simply put, RÉDUIT offer technologically-advanced, hand-held misting devices that deliver the purely active formulas of RÉDUIT Smartpods for both skin and hair. They are so beneficial to the skin and hair because, unlike traditional formulas, the devices and formulas have been specifically engineered to reach past the skin barrier and deep into the skin. This is the deepest that skincare can reach without a needle.
The brand name is really the essence of the brand. In French 'Réduit' means 'reduced'; we reduce packaging, amplify results; reduce time, amplify efficacy; reduce steps, amplify beauty.
These seem like game-changing devices. Why is this technology so revolutionary in the world of skincare & haircare? What makes Reduit devices so unique?
They are! RÉDUIT uses patented technologies called 'ultrasonic diffusion' and 'magnetic misting', which enables the formulas to penetrate 300% deeper into the skin and be 38x more effective than traditional skincare.
At the heart of our formulas and devices, is efficacy. And to ensure this, we had to overcome an age-old problem with skincare – diamagnetism.
Most organic substances have their own magnetic field (diamagnetism). Since water is a diamagnetic material and skin has a protective barrier around it, the two can repel each other and so it makes it difficult for traditional skincare products to be absorbed fully. This is why it sometimes feels as though your skincare is just 'sitting' on your skin. Additionally, traditional products are packed with a lot of 'filler' ingredients that have no real benefits for the skin, but their purpose is to simply bulk out the formula. These molecules are often too big to pass through the surface of the skin and with water, are not pushed deep enough into the skin to have a meaningful impact.
RÉDUIT's smart pods contain no filler ingredients. Our devices contain a small, non-invasive magnet that helps push the treatment formulations deeper into the skin and past the skin barrier. This is the Magnetic Misting technology at work, moving actives out of the formula and onto the skin in 0.25 seconds.
How can a RÉDUIT device help a customer's aim to be more sustainable in their beauty routine?
The RÉDUIT Smart Pods contain 5ml of unique treatments, that equal 50ml of skincare products and 200ml of traditional hair care products- reducing this plastic consumption by almost 5000%. Because the efficacy is so high, a little product goes a lot further.
Why is the price point for these devices and their accompanying treatment pods so high? What justifies this cost?
This goes back to why our devices are so game-changing, they are at the forefront of beauty technology and with this comes a lot of investment in trials and research. At the heart of our formulas and devices, is efficacy. And to ensure this, we had to overcome an age-old problems with skincare and engineer new ways to surpass these problems. We are not repacking old technology but engineering our own, that truly makes a difference to our skin and hair routines.
We are pleased to offer a range of devices at different price points, to make RÉDUIT more accessible. The devices themselves are also one off purchases, so we view them as a long term investment for your skin and hair.
How do users best care for their device after purchase? How should they be cleaned and maintained?
Cleaning a RÉDUIT device is incredibly straight forward. Simply wipe down the device using a wet wipe or towel. You can store the device in the little cloth bag provided with your device. Also, be sure to charge your device when it starts blinking red, if not- before.
You can follow me on Instagram @alifewithfrills