FERRETTI GROUP LANDS IN THE MILAN STOCK EXCHANGE AND BERTHS ITS RIVA ANNIVERSARIO IN PIAZZA AFFARI
Ferretti Group brings luxury yachting into the heart of Piazza Affari. Today the Group led by Alberto Galassi celebrated its debut on Euronext Milan, the Milan-based stock exchange operated by Borsa Italiana, by berthing a magnificent Riva Anniversario in the middle of the Piazza. On show alongside this amazing boat, a limited series that pays tribute to the 60th anniversary of the iconic Riva Aquarama, is an exhibition of photographs about legendary yacht brand Riva.
The debut on Euronext Milan follows the listing a year ago on the Hong Kong Stock Exchange, which means that Ferretti Group joins the exclusive club of dual-listed companies and is the first in the world on these two exchanges.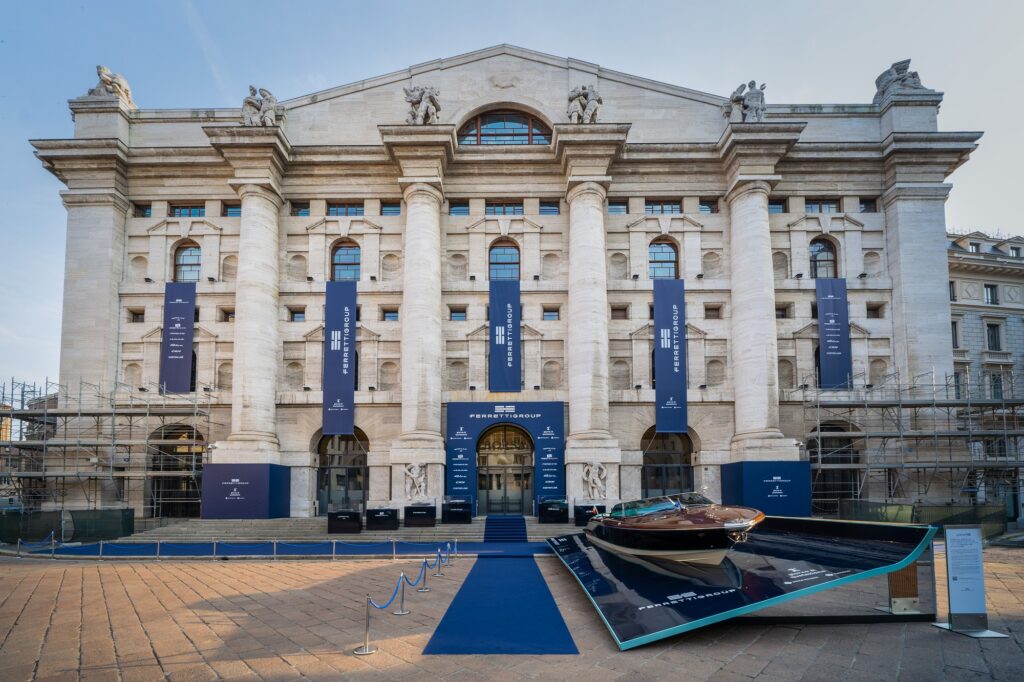 Alberto Galassi, Ferretti Group CEO, commented: "Today we're twice as happy: a year ago we were in Sarnico to celebrate our listing on the Hong Kong Stock Exchange, and now we're at Euronext Milan, the first and only Group in the world – and not just in the luxury yacht industry – to achieve this double listing in Asia and Europe. We come to this historic Tuesday in our best shape ever, riding the wave of outstanding results we continue to deliver as the market rewards us for making the most beautiful boats in the world. As always, Ferretti Group points the way and broadens the horizon."
www.ferrettigroup.com